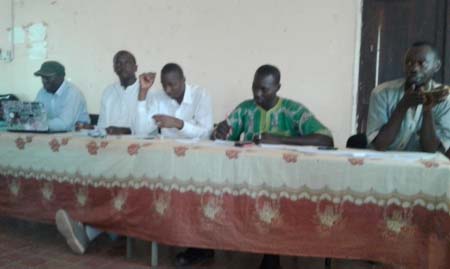 (Issue Tuesday June 28,2016)
The North EMPRETEC FAMILY FORUM held its 1st quarterly meeting with entrepreneurs trained on the concept of EMPRETEC and discussed on the achievements and challenges.

The forum also provided a platform for partners to share the products and services with members, with the ultimate aim of creating market opportunities.
Speaking on the occasion, the president of North Regional EMPRETEC FAMILY FORUM underscored the commitment of the regional executive committee in creating market linkages for Small and Medium Enterprise SMEs in the region.
Momodou BK Ceesay was speaking on Tuesday at a quarterly meeting of the regional chapter in Kerewan, North Bank Region.
He hailed The Gambia government for the foresight in partnering with UNDP in providing capacity development on entrepreneurship to over 160 youths and women in the region.
He said the setting up of a National Executive Committee of EMPRETEC Gambia under GIEPA would contribute to resource mobilization. He also reiterated the need for the regional chapter to intensify resource mobilisation with a view to support small businesses in the region.
He used the moment to thank stakeholders in the region for their support to Small and Medium Enterprise development in agribusiness sub-sector to enable entrepreneurs to increase food production and productivity.
The secretary to NBR EMPRETEC Family Forum Haruna Kuyateh thanked members for their support to the chapter, noting that it demonstrated their resolve to the advancement of entrepreneurship in the region to boost income and contribute to poverty reduction.
He disclosed that plans are underway to link the regional chapter to the National Cooperative Credit Union and called on members to be steadfast in providing support to the regional chapter executive committee to bring about sustainable livelihood development.
Secretary Kuyateh thanked EMPRETEC center at GIEPA and UNDP for their unflinching support in strengthening the spirit of entrepreneurships in youth and women.
Alhassan Bah, public relations officer, re-echoed similar sentiments while calling on all and sundry to put all hands on deck to establish partnership with relevant institutions and agricultural projects to support members.
Momodou Darboe, acting Regional Livestock Director for NBR, hailed the regional chapter for the initiative, noting that the meeting will provide a platform for members to benefit from some of the opportunities at the livestock sub-sector such as ram fattening, small ruminant, poultry productions and cattle rearing.
He called on practicing farmers to always contact Livestock Officers for support and advice.
Babucarr Kanteh of Kerewan Area Council assured of the council's support in working with Small and Medium Enterprises, noting that such enterprises serve as engine of growth and boost the council's revenue.
He said SMEs should be steadfast and uphold best practices in bringing about change on the lives and livelihood of the populace.
Read Other Articles In Article (Archive)