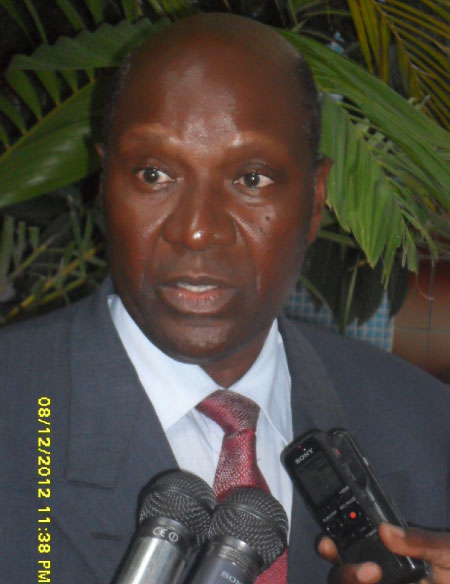 An envoy of Ivorian President Alassan Ouattara Friday evening held talks with President Yahya Jammeh on the situation in Mali, Guinea Bissau and a host of other issues, including bilateral relations between Banjul and Abidjan.
Duncan Kablan, senior minister of foreign affairs in the Ouattara government, told waiting reporters after a closed-door meeting with the Gambian leader that he conveyed three messages to President Jammeh.
"The first was related to the question of Mali to have his knowledge of the situation in that country, because the Ivorian president received a letter from the Malian President Jonkunda Trawally," he said.
He revealed that ECOWAS will be having a meeting today Monday with the ministers in charge of security and mediation, which will include the ministers of foreign affairs, defence and African integration.
"The second message was related to Bissau. You know that there was a meeting here in Banjul on the issue of Bissau and President Jammeh gave me his views on how to improve the situation in Bissau," Kablan told reporters.
According to him, he has also discussed with President Jammeh the relationship between Gambia and Ivory Coast.
"I and my friend Dr Momodou Tangara will work hard to have an agreement for a joint commission before 1st October so that we would find means and ways to have these agreements signed," Kablan further told waiting reporters.
He stated that there are different sectors in which they are to work namely, agriculture, tourism, fishing and other ways of cooperation.
Read Other Articles In Article (Archive)