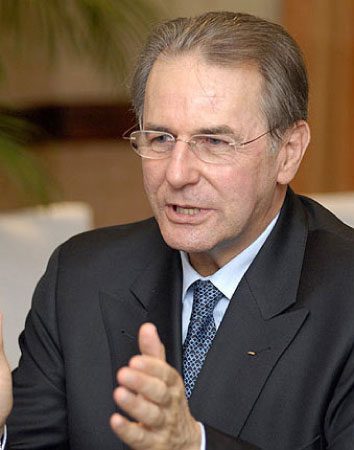 More than 500 delegates from across the world are presently in Amsterdam, Holland, attending the 8th edition of IOC World conference on Sport, Culture and Education.
The forum was opened by IOC President Jacques Rogge at a dinner hosted by the organisers at the country's newly built museum located at the centre of the City of Amsterdam.
In a dramatic show of class all delegates at the conference were transported from their hotels by boat to the museum for the opening ceremony.
Speaking at the dinner, IOC President Jacgue Rouge praised the organisers for the splendid show, saying the magnificent maritime museum expresses very well the identity of the Netherlands, a nation of sailors, explorers and merchants.
"Not far from here, the Rijksmuseum displays the great Dutch and Flemish painters. Amsterdam splendidly shows the combination of enterprise and culture,'' the IOC president enthused his audience.
With the hosting of the 8th edition of this World Conference on Sport, Culture and Education, Amsterdam and the Netherlands are building on a great Olympic heritage.
"The list of great Olympians from the Netherlands is indeed a very long one. Dutch athletes have won 351 medals at the Summer and Winter Games.
"Given the size of the population, this is a great achievement. Competitors like Inge de Bruijn, Leontien Van Moorsel, Anky van Grunsven, Ard Schenk, Fanny Blankers-Koen, Johan Cruyff and Anton Geesink have amazed and inspired people around the world,'' he said.
The IOC boss also said Amsterdam's Olympic heritage includes serving as host of the Games of the IX Olympiad in 1928.
"There is a story behind those Games that I particularly appreciate, being one of your Belgian neighbours,'' he told the organisers.
Mr Rogge further noted that the 8th World Conference on Sport, Culture and Education is a great chance to share ideas on how to tap the full potential of the power of sport to be a force for good.
''We will explore new ways to engage young people in a rapidly changing world. We will reassert the educational and cultural power of sport. Our work begins tomorrow, but tonight, I hope you all enjoy this celebration of cultural achievement and the outstanding programme that our hosts have arranged for us. On behalf of the International Olympic Committee, may I offer our thanks to Andre Bolhuis, President of the Netherlands Olympic Committee, Mr Engida, Deputy Director-General of UNESCO and to our colleague, Lambis Nikolaou, Chairman of the Commission for Culture and Olympic Education; for an excellent conference programme.
"I want to thank Mayor Van der Laan, the national authorities and the people of Amsterdam for welcoming us to their splendid city. Last but not least, let me acknowledge the presence of Lord Sebastian Coe, Chair of the Organising Committee for the Olympic Games in London, for the splendid job he and his colleagues did in organising a very successful event,'' the IOC boss concluded.
Read Other Articles In Article (Archive)