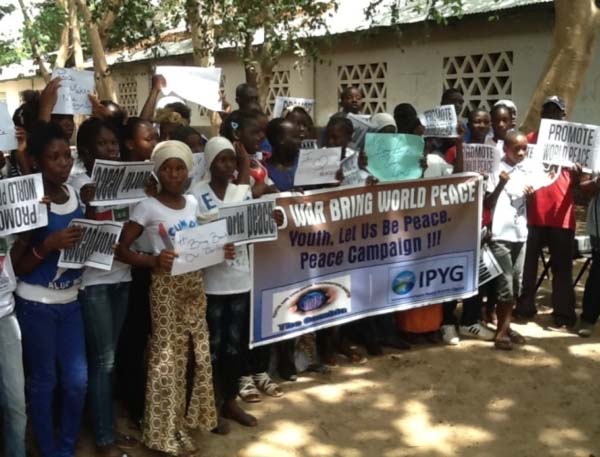 The Youth and Children Foundation, Bakoteh (YCFB), a registered charitable and non-profit making organization operating in The Gambia, in collaboration with International Youth Peace Group, at the weekend launched a peace campaign initiative.
The initiative was organised and supported by the YCFB to complement government efforts in advocating peace and peace-building across the country.
According to the organizers, the campaign in The Gambia was powered by a great movement of peace led by Mr Man Hee Lee of Heavenly Culture World Peace and restoration of light and IPYG International Peace Youth Group in South Korea.
Some of the approaches will be carried out through community education awareness, research and development, media advocacy, peace and capacity-building and entrepreneurial development.
Fred Efosa-Omobude, in his keynote address, spoke at length on the importance of maintaining peace at all level be it at school, home, marketplace, or car parks, saying: "We must have tolerance towards each other and learn to forgive each other and be more environmentally friendly."
He also said: "There is a growing concern of the exposure of children and young people to conflicts in the region, particularly students; thus increase the use of non-violent strategies in conflict resolution among the youth folk."
Therefore, the commemoration of World Peace Day aimed at promoting culture of non-violence and social responsibility among children and young people, he added.
According to him, peace is the absence of violence and conflict at all time, thus he challenges the youth of this generation to be catalyst of peace and ambassadors of peace in their respective communities and wherever they find themselves. 
He noted that the Peace Campaign Project was expected to target schools nationwide with a view to entrenching and inculcating the idea of peace and harmony in the minds of young people who are undoubtedly the future leaders of the country.
As a youth advocacy group, YCFB President also challenged the participants to disseminate the knowledge gained, hence complementing the efforts of the government.
For her part, Bintou Coker, vice president of the organisation, underscored the significance of the event, which she said was to strive to advocate the fight against violence and conflict globally by engaging young people in the bandwagon of world peace.
She highlighted the numerous benefits attached to peace and stability, saying that with peace and stability there could be sustainable development and the world could be a better place for all and sundry.
She reiterated the need for students to embrace the concept of the peace initiative and take it down to their various communities.
The daylong event was characterised by a display of videos and posters, depicting the struggle for world peace by prominent personalities and nations worldwide.
Plans are underway to embark on nationwide peace campaigns to ensure that rural, peri-urban and urban youths benefit from the initiative. 
Read Other Articles In Article (Archive)