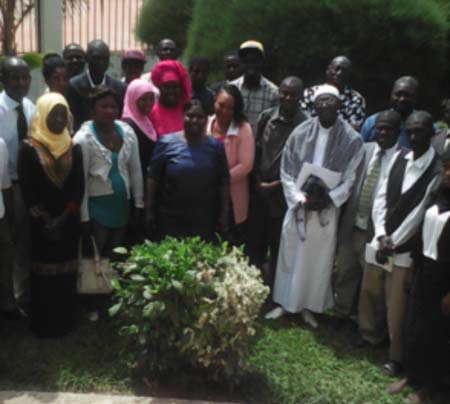 The Network of Journalists on Water and Environment, in partnership with the National Water Sector Reform project, organised a five-day capacity building for journalists from the print and electronic media at the National Nutrition Agency (NaNA) conference hall from 22 to 26 April 2015.
The training was held to create awareness, build the capacity of journalists on Integrated Water Resource Management, and stimulate new ideas and approaches in the effective dissemination of water and environment issues.
In his statement, Alagie B. Manjang, the Principal Environment and Natural Resource Officer at the Ministry of Environment, Climate Change, Parks and Wildlife, said that as an institution responsible for policy and planning, they were impressed by the commitment of the network.
The idea of integrated water resource management is a global need, he said, adding: "Water is an important aspect of life but we often misuse it without bearing in mind the consequences of our action. We need to recognise the linkage between water, environment and the land resource."
Mr Manjang noted that as a ministry they have a responsibility but that responsibility cannot be achieved without the support of all stakeholders.
"We need to adopt the principles of water resource management as the pressure on water is increasing," he said.
"There is a reform process in order to update the legal framework and we also need to have a water act. As a sector there are other challenges requiring sustainable management of water resources and one of them is institutional arrangement, which is not sufficient to adequately implement the water and resource management."
For his part, Ousman Jarjusey, project coordinator, said all stakeholders need to be involved in integrated water resource management.
He highlighted the components of the project, saying women play a pivotal role in water resource management.
"We need to know the information available on water resource and why it is depleting," he said, adding that The Gambia "is water stressed" hence "we need to use water judiciously so as to reserve water for the generation yet unborn".
For her part, the Network coordinator, Bernadette Sanneh, said: "We have to stand firm together to make water and its related issues well known to the populace."
The communication officer of the National Environment Agency, Alkinky Sanyang, in his remarks, said the media is the fourth estate for any democratic process hence nothing should be done in isolation of the media.
"No meaningful development can really take place when the environment is compromised and one of the greatest factors of climate change is water," he said, adding: "One thing that can stop climate change is planting many trees."
Read Other Articles In Article (Archive)