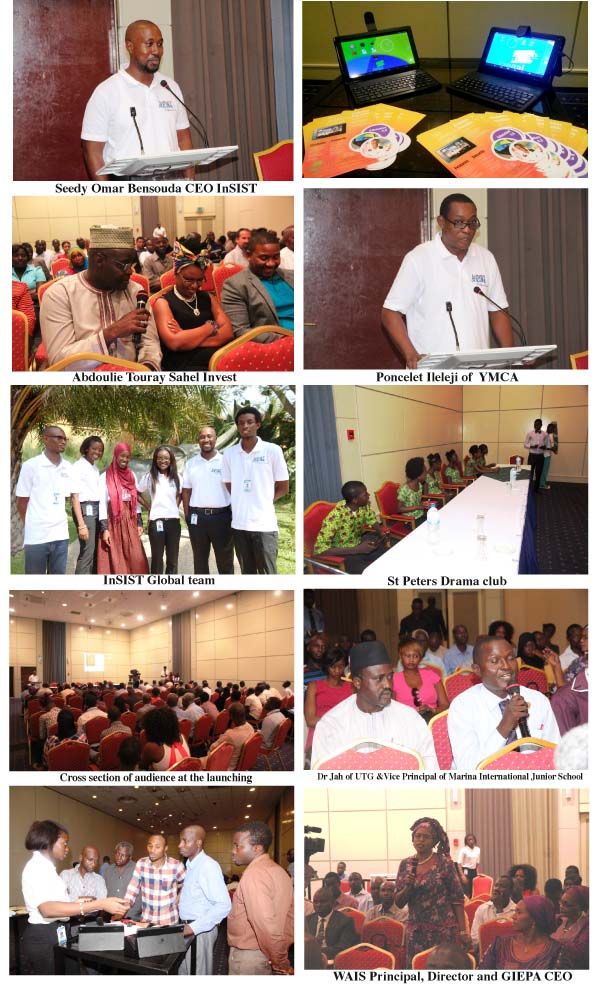 InSIST Global the Gambia recently launched a new qualitative product called Jangal Tablet at a ceremony held at the Kairaba Beach Hotel in Kololi.
The Insist Jangal tablet is an affordable, quality, easy-to-use, and safe e-learning device introduced by InSIST Global to give students limitless access to their required textbooks and all other educational contents that will empower and set them on the right path to success.
Seedy Omar Bensouda, chief executive officer of InSIST Global, in his launching statement, said InSIST Global has been working with schools for the past two years now.
Through maintaining a strong partnership with schools they have steadily grown their network of partnering with schools to over 20, with more to join the project in the coming months, he said.
Bensouda thanked all teachers and principals who have demonstrated belief in them and stood by them as they have worked to overcome many challenges.
"I recall telling a group of principals once, that they teach us so that we can do exactly what InSIST is trying to do with them now, which is to create industry and by so doing create employment and opportunity for the very minds that they are shaping so that more youths can believe that they can succeed right here in their own country," he said.
He added: "For their willingness to give their former students a chance, I thank them, and will renew our promise to them, which is that they will never regret their decision to work with InSIST Global.
He said further that while their initial goal was to create a low cost solution to help schools with their administrative work the scope of their engagement with schools has grown into an ambitious multi-year project to provide a low cost operating platform for schools that will exploit ICT to make education "cheaper, more affordable and effective for every Gambian".
Mr Bensouda continued: "Today we have requested your presence to celebrate yet another milestone in this plan. In late 2013 the principal of St Peter's now St Augustine's Father Bruno, asked what we can do about text books. He said that even a lot of books were supplied by the Ministry of Education he could not get enough for students and they were a lot of books that were free but had to be photocopied every term, making it difficult for students.
"We told him we would see what was possible, and we began to explore options. After almost a year of research and development we are here to inform you of our success."
Mr Bensouda added that learning and life could be much more improved if every student could have their own affordable personal computer; every classroom in the entire school could be turned into a modern computer lab; and every student could access over 3000 videos of every topic from maths, physics, and chemistry to history.
These, he affirmed, could help them learn regardless of the teacher or the condition of the classroom.
"If every student can access 100s of software applications and reading materials, that can help them simulate science practicals, do quizs in maths and English, or even the Quran or the Bible," he said further.
He added: "I give you the InSIST Jangal Tablet, a groundbreaking android based tablet that has been developed at InSIST Global, right here in The Gambia and the hardware manufactured in China. It combines the best of the internet in a low high quality tablet that students can buy and own and use anywhere.
"We have found that 40 per cent of the students we engage have difficulty navigating a computer; this is further affirmed by the National Training Authority, who says that ICT is the fastest growing training sector for TVET.
"While this is good for the industry it does highlight a major problem which is that students are not prepared for the modern workplace and end up investing to learn basic computer skills so that they may get a good job."
According to Mr Bensouda, InSIST Jangal Tablet would ensure every child is computer literate and is able to use computers to work and learn.
"We believe this to be the first successful attempt anywhere in the world to combine security, low cost, web, high quality education content and class to ensure that students, no matter their background, are able and motivated to learn through ICT," the InSIST CEO said.
He disclosed that in an effort to ensure that every child could afford their own tablet, they have decided as a company that quality should not be sacrificed for affordability.
"We have developed a six-month loan scheme that will allow every parent to purchase the tablet for their children," he said.
He added that through the power behind the InSIST Jangal Ebook, they could change not only how teachers teach but also how students learn, not only in The Gambia, but in all of Africa and beyond.
"Today all of you and every Gambian should be proud, because InSIST Global is a homegrown enterprise. It is 100 percent owned by Gambians and the team at InSIST are all young Gambians who dream big and work very hard to bring you "Made in The Gambia' technology solutions that meet international standards and can be exportedaround the world," Bensouda explained.
"Our success will inspire more Gambians to try and not wait the big outside investors or AID and I believe this will be the only way out of poverty and economic freedom."
In her presentation on the Jangal project, Fatou Jobarteh, project manager of InSIST Global, said their objective is to solve existing challenges in an effective and sustainable way by increasing access to educational contents, making contents affordable, equipping teachers with videos and materials to improve students' performance.
Read Other Articles In Article (Archive)