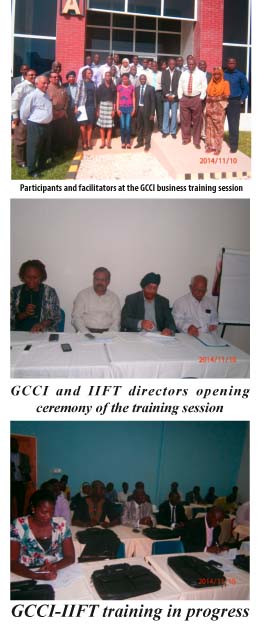 About 40 Gambian corporate officials drawn from both the public and private sectors are currently undergoing an international business training course at the conference hall of the Kerr Jula Secretariat of the Gambia Chamber of Commerce and Industry (GCCI) in Bijilo.
The five-day training session, organised by GCCI in concert with the Indian Institute of Foreign Trade (IIFT) in New Delhi, India, is facilitated by corporate professionals from India to enhance the capacity of corporate officials in Gambia's business community.
Participants were strategically selected from both the public and private sectors to raise their corporate undertakings to international trade level, as well as spur them to make positive changes in finding new solutions to business dynamics.
The topics being dealt with include trade and agriculture, managing international projects, strategic planning and organizational design, globalization and trade policy and economic diplomacy, world trade environment: international markets of goods and services, WTO framework (agricultural and non-agricultural), cross cultural issues for international businesses, effective communication as a key for success in international business, consumer behaviour analysis in international business, doing business with India, and India-Gambia relations.
Speaking at the opening ceremony, GCCI's manager, business development, Sarata Conateh, said her institution welcomes collaboration for the development of the business community in The Gambia.
"With GCCI, wherever we get opportunity that improves and avails our private sector the chance to build their capacity, we respond to it positively," she said, adding that the capacity building initiative is to ensure the development of medium and small-scale businesses in the country.
The training is set to improve their collaboration with both the private and public sectors and to continue building partnerships, she said, adding that it's always beneficial for all entities to build partnership, which enhances capacities that have not been had before.
In his remarks, the Honorary Consul General of India to The Gambia, Ram Mohan, thanked GCCI for the development and promised to continue to strengthen relations for the benefit of both nations.
He encouraged participants to fully utilize the training for the development of their businesses.
Consular Mohan described capacity building as one of the development pillars The Gambia significantly promotes to build the capacity of its people.
Former GCCI president and head of Mahatma Gandhi University in The Gambia, Abdoulie Touray, said they have been trying to engage the Gambia government for fruitful collaboration with the sector.
D. C. Singhal, business consultant from India, said in his remarks that one of the most significant natural resources given to mankind by God is the human mind. He stressed the significance of building the mind for human advancement.
He also pointed out that India has come to terms with The Gambia more so that both countries could effectively use the English language as a medium of communication.
Dr M. Venkatesan, associate professor at the IIFT, also emphasized the importance of sound business ideas, collaboration and partnerships between entities of the two nations. 
Read Other Articles In Article (Archive)