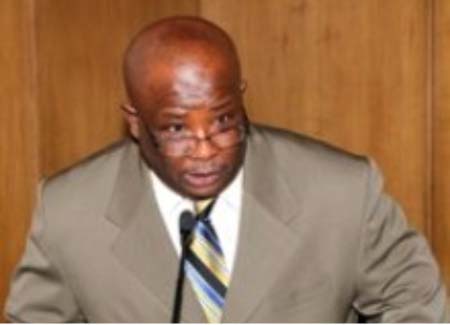 The much awaited masterpiece on Gambian football by Gambian Sports Icon, Tijan Masanneh Ceesay, titled An insider's review of Gambian football 1975 - 80, is out and on sale at Amazon.com.
The book, which is already selling like hot cake, gives an accurate account on Gambian football from 1975 to 1985 a period of which there could not have been a better eyewitness than the author.
The forward is written by no other person than the Dean of Gambian Sports Journalism Pap Saine who nurtured Tijan as a young journalist.
Veteran Gambian Sports personality and historian George Furmose Gomez reviewed the book before publication and had this to say:"This book is an excellent eyewitness account of Tijan Massanneh Ceesay who lived through these years learning and mastering the art of calling and commentary of matches. Tijan was not only a football commentator but also a sports journalist covering most sports events.
"The period covered in this book was the most crucial of years in Gambian football with its high and low points and the game flourishing to higher heights. The developments within the game, the problems, the rivalries, upsets and the sacrifices and contributions of individuals to enhance football in the Gambia are all covered in this book.
"The book also highlights what passion and determination can help achieve. Tijan was a passionate and determined learner who eventually mastered and, according to some, even outshined the best there was.
"I am amazed at his vivid recollection of events, names and dates. This book is worth reading and will be a valuable addition to the collection of the history of Gambian Football, Basketball and Athletics."
When contacted by The Point on the release of the book, Tijan had this to say: "First it's the will of God Almighty that this book is done and I am thankful to our creator. I believe the book is a testimonial of sort on Gambian football during the time I covered and worked in it. People like Lamin Cham and Baboucarr Sillah for the last decade have been pushing me to put something together for posterity and I cannot be prouder of these two friends for their support and hard work in the project. I also could not ask for more from Pap Saine, my mentor, who was gracious enough to pen a fitting forward for the book and George Furmose Gomez who also reviewed the entire manuscript and gave it a GO! Like any book, there will be lots of questions asked and the content will not sit well with some; in any case, I extend apologies now. I do hope deep down in my heart, that the pages of this book will bring back afresh memories of the gallant Men and Women who went to battle for our flag; if that's the case, I can lean back and say, mission accomplished!" 
Read Other Articles In Article (Archive)