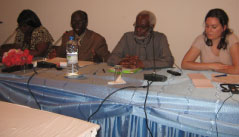 A national forum on Human Rights Approach to regional integration of West Africa was recently held in Banjul by the National Organisation on Human Rights (NOHR) based in Dakar.
According to officials, the organization, which is a four-member country bloc comprising Mali, Burkina Faso, Senegal and The Gambia, is being supported by the European Union.
Speaking at the forum, Djibril Badiane, the organisation's programme coordinator, said the integration of West Africa should be a collective responsibility of all states that signed its conventions and treaties. He noted that the non-state actors also have a stake in the integration process.
He said that some of the issues that need special attention are the issues of human rights violations, human trafficking, and illegal drugs trafficking.
"These issues must be looked into critically in order to come up with solutions to overcome the many challenges facing the sub-region," he said.
He said that since Member States have signed the various protocols and conventions on behalf of their citizens, they are obliged to implement the protocols and conventions accordingly.
The objectives of the project, according to Djibril, is to contribute and promote effective free trade zone and establishing the basis of customs union with core related texts and regulations ratified by ECOWAS members countries.
"In this case the choice of extensive popularization of headlines refers to the level of knowledge of non-state actors strengthening their framework for dialogue," he said.
Djibril said that regional integration process is considered to be one of the safest levers of development in the region.
He said that significant moves have been taken by Economic Community of West African States ( ECOWAS) since states have registered certain achievements in agricultural development, trade, movement of people and goods, governance, drugs trafficking and human trafficking.
He went on to say the commitment of European Union and ECOWAS to promote the participation of non-state actors in the process of regional integration in West Africa is a response to the concerns of economic operators and civil societies.
Badiane went to say the non-state actors are required to advocate, lobby for information sharing and capacity building to address some of the issues.
For her part, Madam Hannah Foster of ACHRS, revealed that the expectations include stakeholders to show commitment in the implementation of human rights approaches in the execution of its activities.
She said that issues challenging regional integration are better approached through the articulation between the different sectors, the strength, weaknesses, and possible solutions are brought forward.  
Read Other Articles In Article (Archive)