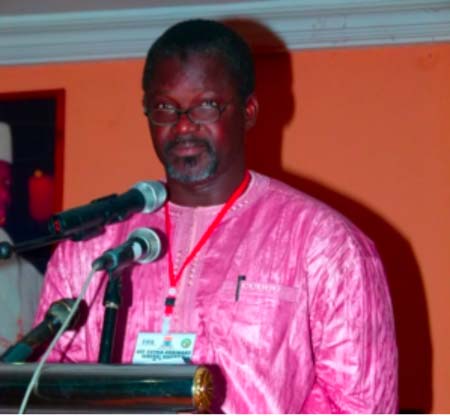 Lamin Kaba Bajo, the newly-elected Gambia Football Federation (GFF) president, has promised to unite football stakeholders in the country.
"Henceforth, camp and disunity in football is dead and buried," he declared.
Bajo, who was elected to spearhead the affairs of the GFF for the next four years at an extraordinary congress held at the Paradise Suites Hotel on Saturday 20 September 2014, thanked the Normalisation Committee (NC) for accepting what he described as a "rough and difficult" journey within a short period.
"The NC has done a very good job, which resulted in the smooth running of the election," he said, adding that as stated in his manifesto, his task is to harmonise the football fraternity across the country.
"Camp football and disunity in football is dead and buried from here and now," he went on, further stating that they are not blaming anyone for whatever may have happened in the past. "It's human nature," he said.
"Sometimes circumstances cause certain things to happen, but now we are all brothers and sisters with the same focus to develop Gambian football, which no single person, section or group can do alone."
Bajo said he wants to invite everybody with open arms, and in the first place would extend a hand of peace to everyone, because in unity "we come together and work on the development of football."
Everybody matters, because without the participation and contribution of all stakeholders, his team alone would be unable to make it, he added.
They need everybody's support, cooperation and full participation regardless of individual status or position, he continued.
"Team Kaba is no more as it is dead and buried; it is GFF Executive now," he announced.
Bajo went on to recognise the enabling environment the government of President Yahya Jammeh has created through the Ministry of Youth and Sports.
They owe them a lot, Bajo said, adding that expectations are high, as "we all know the huge investments and attention the government is putting into youth matters – sports in general and football in particular."
Therefore, they would not be forgiven by history if they fail to deliver on their promises, as highlighted during the campaign period, he added.
"We need all hands on deck, as I and my executive cannot do it alone."
Bajo spoke of "His Excellency's personal commitment and support to youth matters," and therefore urged everyone to come together to ensure they produce not tens, but hundreds of millionaires.
"We have seen in the recent past what the President did when our U-17 won an international trophy," Bajo, who has served in various capacities under President Jammeh's government, said.
"If it were not the setbacks we went through in the recent past, the President would have given more support to sport and young Gambian players in the country.
"Please let us not deny the youngsters who have the potentials to receive those local millions," he continued.
"Let us not deny those families who would have benefited from the millions through their children; let us not deny the society which would naturally benefit from the spillover of those millions, and let us not deny the country as a whole."
Bajo also urged everyone to put all differences aside regardless of origins or nature, and to have one objective - which is the development and advancement of Gambian football.
The stakeholders are mainly the youths of this country, who form the greater part of the population of the country, he further observed, adding that they would try by all possible means legal to review and reach out to everyone in every corner of the country, to listen to them and work with them so they could deliver on their manifesto.
The key highlights in Bajo's manifesto are to develop a coherent football calendar; to develop and encourage grassroots football; and capacitise and strengthen strong regional football associations, which will properly and efficiently handle regional leagues.
"Let us not forget about our sisters who are with us together in this game. They are our indispensible partners and, therefore, much attention will be given to the development and promotion of women's football."
He also thanked Des Samba, Momodou Demba and all their colleagues for really sticking together all these years to ensure females in sport also benefit from the game.
The people who pioneered this in the recent past have gone through so many social, religious and other obstacles, he said, adding: "We want our sisters to also join the queue of being professionals, and thus becoming millionaires in their own ways."
They will help capacitise and develop them so they could join the male-folk in running the affairs of not only women football but also male football, he went on, as the focus on it is very high at the level of FIFA.
They would like to see women go past the stage of just being followers and back benchers.
"We want them to lead as this is in line with government policies and programmes, in terms of gender and gender activities."
He also said they feel embarrassed about the non-existence of the players' association, and would endeavour "as a very urgent matter" to have it in place.
"We will endeavour to have it as one of our priorities," Bajo said, adding that they would also want to embark on strengthening the league within a synchronised calendar, "which will not be limited to our local calendar but synchronised with other regional and international tournaments."
They will also endeavour to ensure that adequate sponsorship is acquired for the development of sport, as the government alone cannot do it.
"The goodwill is there, and we have seen what government has been doing and I am privileged to have served in the past as Minister of Youth and Sports, and know what it means; but with renewed partnership with government and all other stakeholders, both local and international, I am confident the future is very bright for Gambian football because we have the skills."
There are Gambian stars like Star Jallow and Star Janneh who have seen stardom not only in The Gambia butalso internationally. Talents are all over the country, he pointed out.
But all the good things about football could not be achieved, "if we do not have the basic infrastructure in place."
They will work tirelessly with the government and other partners such as CAF, FIFA and other local and international bodies to ensure that, within the next four years, "we have the basic infrastructure in every corner of this country, without which we will not be able to achieve our aims."
He was happy that the chairman of the NC spoke about the Technical Training Centre; they are pleased some actions are ongoing on and will gladly embrace it.
They would want to keep NC chairman Hon. Alhagie Sillah and his team to guide them through "this uphill task in acquiring the necessary funds for the development of football in the country, and the upgrading of the technical training centre into a centre of excellence," Bajo told his audience.
He went on to emphasise the need for collaboration and partnership, and the building of confidence in the new executive and stakeholders.
Finally, he commended members of his team who approached him to lead the GFF.
It was difficult for him to come to terms when the news was first broken to him. However, after consultations he took up the challenge, Bajo said, and thanked everyone for their trust and confidence in him, and for the support he received from them during the past two weeks.
Bajo thanked the other GFF presidential aspirants, Buba Mbye Bojang and Omar Danso and their teams, "for their maturity and the way they comported themselves throughout the process."
"From now on work begins,' he declared, adding that they are partners and he would not leave anyone behind.
Bajo concluded his address by thanking the President, the vice president, and regional governors for making it possible for them to carry out their campaign tour successfully. 
Read Other Articles In Article (Archive)