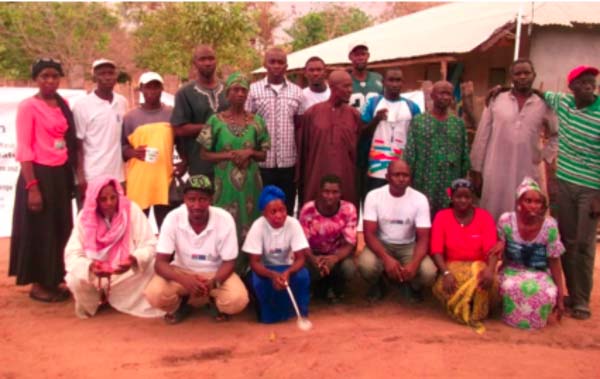 The Gunjur Environmental Coastal Group was on Wednesday sensitised on the effects of climate change, as well as on possible alternatives to activities affecting climate change.
The project titled "Enhance community capacity on climate change," is a European Union (EU) D2.5 million funded project which is being implemented by ChildFund The Gambia for a five-month period targeting five coastal communities, such as Gunjur, Tanji, Brufut, Sanyang and Tujereng village.
The GCCA support project to The Gambia for integrated coastal zone management and the mainstreaming of climate is focused on climate change, contemporary climate change adoption techniques and advisory skills for community mobilizers and opinion leaders, as well as the establishment of community mechanism for monitoring climate change trends.
Held at the Gunjur-Misira community, the events attracted members who were sensitised on forestry, environment, and wildlife, with special talks or presentations on climate change, among others.
Speaking at the ceremony, Mamodou Kuyateh, community mobilizer for the EU ChildFund climate change project, said the project was undertaken to mobilize, sensitize and train youth and women on alternative livelihood schemes.
He said they have sensitised the community on the effects of climate change and on alternatives to activities causing climate change, so that at the end of the day they would be able to take up the ownership of the project.
According to him, they have also conducted climate change training programmes on alternative livelihood involving hundreds of youths and women.
Mr Kuyateh revealed that they would also be disbursing loans to the various community beneficiaries in the group, for which ChildFund would create a constitution and let them manage their own accounts.
He added that the loan scheme is set to be a revolving one, adding that they would want to see that the beneficiaries are able to repay the loan at the end of the stated period.
At the end of the duration of the project, he said, the communities and the Village Development Community (VDC) would continue with the activities for the good of their people.
Gunjur Environmental Concern Group chairman Lamin Jammeh described the project as fruitful, adding that since the starting of the project, the ChildFund has managed to train some of them, which has benefited a lot of them.
He said that at the end of their training, they would always return and organize sensitization programmes in the Gunjur community.
The forest was not well protected before, but it is under protection now, he went on.
He added that their group has been working hard to protect the environment, since it took the leading role.
He commended the EU and ChildFund for the gesture, saying they would continue to urge the community to protect the forest and keep it clean.
The group secretary general, Bubacar Touray, said they are very much concerned about maintaining the quality of the forest.
He added that they have also embarked on transplanting to get the forest rehabilitated.
[endif]
Read Other Articles In Article (Archive)