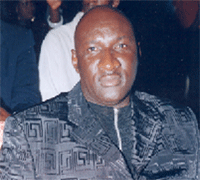 Prosecution, Defence Argue Over Tainted Witness

The false information case involving Musa Suso, the former National Assembly Member for Kombo North Constituency, last Thursday continued at the Bundung Magistrates' Court, with legal wrangling between the prosecution and the defence over the interpretation of a 'tainted witness'.
Prosecutor Superintendent Tijan Badjie submitted that the 3rd witness for the prosecution, former Inspector-General of Police Benedict Jammeh should be treated as a "tainted witness". He cited an authority from the Nigerian Laws to back up his 'tainted witness' argument.
The prosecution made reference to an answer given by the said witness in answer to a question from the defence that the accused never gave him any false information. He maintained that the witness had long established the truthfulness of the accused.
Arguing further, he submitted that the witness had supplied the court with a material in the form of a cassette, the existence of which, he said was unknown to the prosecution.
He also claimed that he had an encounter with the witness outside the court, during which the witness told him that he could bounce back as his boss.
The witness, he said, always referred to one Essa Badjie (Jesus) who is not on trial, arguing that "Jesus was not in court to accept or deny what the witness was saying against him".
He maintained that the witness was trying to destroy the prosecution's case and submitted that it was likely that the witness was working for the defence, considering the attitude and the answers to questions posed by the witness. As a final point, he submitted that the witness is a "tainted one."
Defence Counsel Lamin Jobateh, in reply to the prosecution's submission, said that the prosecution's submission lacked merit, noting that what the court needed was to guarantee justice.
He told the court that the prosecution was duty bound to call a witness even it was in favour of the defence. He submitted that what actually happened regarding the said witness was that he was a "credible witness".
He submitted that calling a witness a "tainted" such as the reference made by the prosecution amounted to "persecution and not prosecution".
According to him, the prosecution failed to come up with what made a witness "a tainted one".
He told the court that the witness testified that the accused never gave him any information, emphasizing that a witness producing a cassette that was unknown to the prosecution could not make him a tainted witness.
It was at that point that the presiding magistrate, Olajibutu Kayode, adjourned the case until 14th August 2009.
Read Other Articles In Article (Archive)