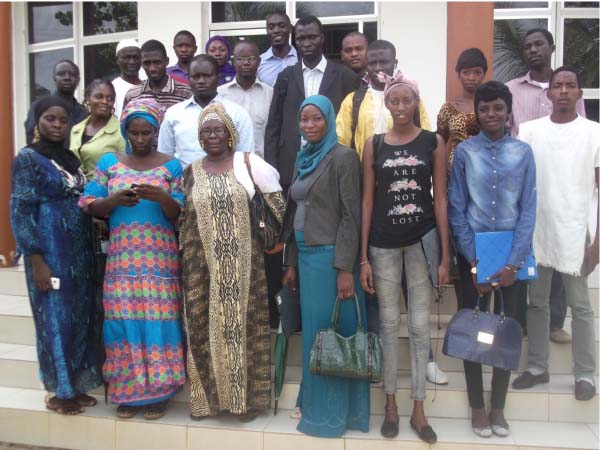 The Ministry of Health and Social Welfare through the Directorate of Health Promotion and Education yesterday staged a media sensitization programme on their effort at preventing the Ebola virus from entering The Gambia.
The programme, funded by Action Aid The Gambia, is a collaborative move to help sensitize the nation on prevention of the virus from reaching The Gambia.
The sensitization, held at the National Nutrition Agency (NaNA) office, also witnessed presentations on their committee's activities.
The presentations stated the significance of community engagement in dialogues, which helps to develop trust and confidence among people. "This will help communities to be part of decision-making process and implementing best practices," they stated.
Speaking at the programme, the director of health promotion and education, Modou Njai, said the sensitization was geared towards updating the nation on the effects and existence of the epidemic in the sub-region.
"We want to remind the people to be washing their hands," he said, adding that during the outbreak within the sub-region so many institutions adhered to the advice and helped with hand-washing materials, but most of them have stopped the provision and use of those facilities, which is not safe.
Mr Njai urged communities to make the best use of the 1025 phone call for effective and fast response.
He further remarked that the 1025 Call can also be used for giving and seeking information.
He commended the press and the Association of Health Journalists for their partnership on the dissemination of information to the public.
He promised to continue their partnership with the media, especially in capacity building for journalists to ensure better reporting. 
Mr Njai thanked ActionAid for facilitating the event.
Also briefing the press, health promotion officer Momodou Gassama of WHO said there had been over 27,000 deaths of the Ebola epidemic.
"The Ebola is a problem which is of concern to the wider community," he added, saying the fight against the Ebola virus is yet to over.
The conclave was set to re-sensitize the media on the epidemic for them to continue playing their crucial role in information dissemination delivery.
Gassama also made a video presentation sharing his experience upon his return from Sierra Leone, where he registered significant impact in the fight against Ebola, revealing wiser strategies which should be used in the fight.
He added that the epidemic not only causes physical death but also affects national economies and takes countries backward.
"This is beyond a nation, an organization or an individual, but a global concern," he said, adding that no single nation can tackle it.
"Ebola is bigger than any country," he said, considering its huge impact to human health and the world. 
Read Other Articles In Article (Archive)