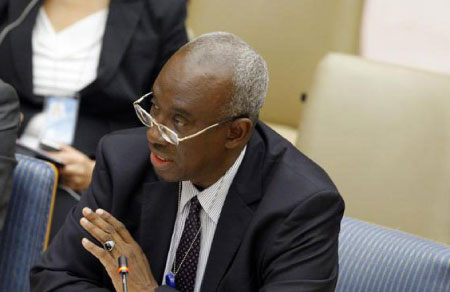 The UN Security Council Wednesday appointed Gambian-born chief prosecutor of the Tanzania-based UN International Criminal Tribunal for Rwanda (ICTR) as a prosecutor to finish the remaining tasks of the United Nations war crimes tribunals for former Yugoslavia and Rwanda when their mandates expire, while Secretary-Ban Ki-moon announced the appointment of the body's president.
The council decided to appoint Hassan Bubacar Jallow, as the Prosecutor of the International Residual Mechanism for Criminal Tribunals set up in 2010 for a term of four years.
Mr. Ban had nominated Mr. Jallow, a former attorney general and justice minister in the first republic for appointment to the post. Mr. Jallow will continue to serve as ICTR prosecutor.
The Secretary-General appointed Judge Theodor Meron of the United States as President of the mechanism for a term of four years with effect from 1st March.
The decision to appoint Judge Meron was made in consultation with the President of the Security Council, and the judges of the mechanism.
Judge Meron will continue serving as President of the International Criminal Tribunal for the former Yugoslavia (ICTY) while working as the President of the mechanism.
The Secretary-General also welcomed the decision of the Security Council to appoint Mr. Jallow as the mechanism's prosecutor.
"The Secretary-General believes that the mechanism will benefit immensely from their considerable experience, outstanding leadership skills, and profound commitment to international criminal justice," said a statement issued by his spokesperson.
The council set up the mechanism in December 2010, and mandated it to take over and finish the remaining tasks of the ICTR and the ICTY, when they are closed after their mandates expire. The council has urged the two tribunals to conclude their work by the end of 2014.
The ICTR branch of the mechanism will begin functioning on 1 July this year, while the branch for ICTY will start on 1 July 2013.
Read Other Articles In Article (Archive)