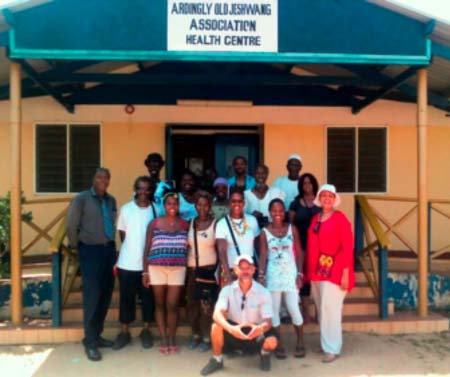 AG Associates, a self-funded group established in UK six years ago, Tuesday donated medical and other items to Ardingly Old Jeshwang Health Centre.
AG Associates was set up to promote education, health and general well-being, and to run skills workshops and encourage those with skills to teach others, as well as promote self-reliance.
The donated materials included chlorine tablets, thermometer, various uniforms, mosquito nets, sick bowls, dressing IV, dental anaesthetic, cleaning agents, clinical waste bags, books, blood bottles, alcohol wipes, blue rolls, cannula syringe, crutches, eye pads, masks needles and syringes, oral syringe, scissors, surgical towels among other materials.
Angela Graham, founder of AGA, said they were touched by the reception received from leaving the aircraft all the way to their hotel, when she and her husband first visited The Gambia.
Their first trip in The Gambia was in 2006 for the Roots Festival.
"Gambia reminds me of Africa, Jamaica in Africa", she went on, adding that it was for this reason they wanted to do something, like providing support in the areas of health, education and tourism.
"We feel we have a duty to fulfill," Graham continued, revealing that they are self-funded and that everything they do was "from their hearts and money".
Alhaji Abdoulie S. M. Sowe, general administrator Ardingly Old Jeshwang Health Centre, welcomed the gesture, as they needed the donated items very much.
"Our finance is not much to be able to buy the required materials," he stated, noting that they depend on the drug revolving funds.
He also commended Isatou Mclarty for responding to their request on time, and thanked the donors.
Isatou Mclarty, secretary AG Associates, explained how the link with the hospital came about.
The hospital provided them with a list of what was needed, while they provided what they could.
Dr Ebrima Jarra, a volunteer at the health centre, said he works at the centre to see how best he could give his services to the people of The Gambia. 
Read Other Articles In Article (Archive)