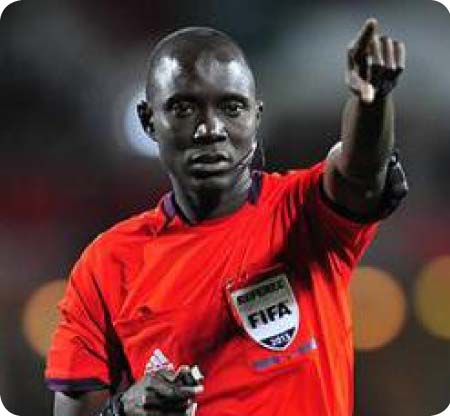 The Gambia Football Federation (GFF) is pleased to announce that Gambian referee Bakary Papa Gassama is set to leave The Gambia to participate in the 2014 FIFA World Cup in Brazil among twenty-five elite Referees nominated across the world.
Papa's participation at the 20th edition of the FIFA World Cup will be the first time for a Gambian referee to officiate matches at the global showpiece. This is the highest recognition Gambian football has been acclaimed of recent.
The GFF Executive under the reigns of Mustapha Kebbeh recognizes Papa's recent accolades as unprecedented.
Papa's enlistment into global refereeing stemmed from the beginning of His Excellency President Sheikh Prof Alh Dr Yahya AJJ Jammeh's efforts in creating the conducive footballing environment that enable him and others to exhibit their talents.
The GFF therefore thanked the President for his personal and government contribution towards the achievement of products like Bakary Papa Gassama who has now become the symbol of Gambian Football at the world stage.
Been one of the best Referees on the continent, Papa will join with two other renowned Referees from Africa for the Summer World Cup in Brazil.
"Papa will undoubtedly be our Ambassador at the World Cup because he will be the only sole Gambian in the pitch in Brazil", GFF president Mustapha Kebbeh remarked.
The GFF takes this blessing opportunity to thank all stakeholders for the support and guidance given to Papa Gassama to enable him reach at this ebullient level.
The GFF further extends endless thanks and appreciations to the Chief Patron of Gambian Football His Excellency the President; Sheikh Prof Alh Dr Yahya AJJ Jammeh, Government of the Gambia and Ministry of Youth and Sports for their guidance, moral and financial support.
The GFF finally wishes Papa the best of luck in Brazil and prays that he continues to discharge his duties effectively without fear and favour. Sources Gambiasports.gm 
Read Other Articles In Article (Archive)