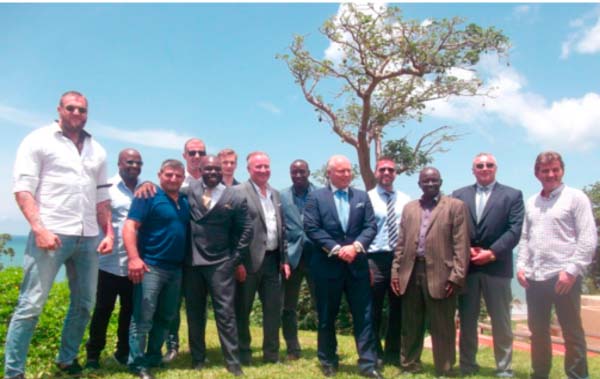 A 
delegation of European business investors comprising former top professional sportsmen and high profiled business tycoons arrived yesterday in The Gambia for a short visit coordinated by NORGA International Company, a Gambian registered company.
Upon their arrival in Banjul, a press briefing was conveyed yesterday at the Sheraton Hotel in Brufut where pertinent issues on both education and sports development were discussed.
Speaking at the briefing, Ba Jabbi, CEO of NORGA, applauded the visitors and partners for the venture and spoke on various development issues including football and education.
He said assistance to NORGA International from the group would also benefit the whole Gambian football fraternity. He thanked the visitors for the interest they have shown in supporting The Gambia.
He informed the partners that Brufut as a community and the nation at large have lots of young talents interested in football, who believethrough football they could get out of poverty and nurture hope and self-confidence to work for themselves to realize their dreams.
Having a school and football academy, he said, is the right path for the community.He said they welcome people from all over the world who have genuine interest in collaborating with them in the development efforts.
NORGA marketing director Mamadi Ceessay, in his remarks, said that having such big investors in The Gambia is a dream come true. "I know that I have got the right people" he said, adding that one of his dreams was to build a school in the country, and if realised, the school would run with free education and lunch for the students. "For us, education is number one," he reaffirmed.
Freedy Bakke, CEO of Sanet Holding Limited, who was also head of the delegation, said football gives hope for the future. They are looking at the sector to do business with people in The Gambia and beyond, he said, adding that they also do business in other sectors such as oil and gas around the world.
He stated further that they would also have a look into other different sectors with their partners. Another significant area for them is to help children to have hope for the future. He however described The Gambia as a peaceful country.
Nigel Green, CFO of Sanet Holding Limited, who is also an ex Crystal Palace player, described The Gambia as an amazing country, saying the leadership of the county "knows exactly what they are doing".
He also said they would like to invest in energy, information technology, banking, and tourism as well as to establish diplomatic relations with The Gambia among others.
He commended the Gambian president for his leadership role, saying he was grateful to be associated with the government and the people of The Gambia.
The delegation included Christian Hendersson, Oil and Gas business executive; sports celebrity, Emile Kostadinov, a Bulgarian International who also played for Bayern Munich in the 1980s; Armen Nozarian, a Bulgarian International who is also an ex-professional wrestler with over 23 European and Olympic Championship titles; Lyubomir Simeonov, a Bulgarian ex-professional kick boxer and now a Hollywood actor; and Stijn Vastraelen, Bulgarian professional ex-cyclist.
Read Other Articles In Article (Archive)