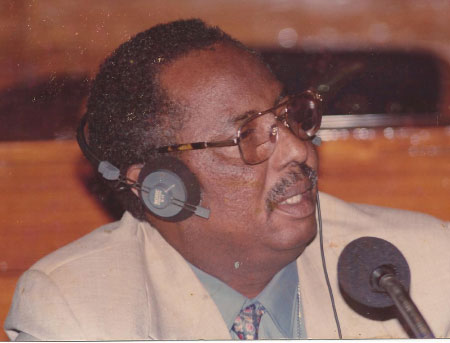 The Gambia Press Union (GPU) Friday commemorated the 10th Anniversary of Deyda Hydara's murder with a public lecture on the theme: "The Effects of Impunity on Security and Development," held at TANGO grounds in Kanifing.
Members of the media fraternity, politicians, civil society members and friends of the media attended the lecture.
Madi Ceesay, managing editor of Daily News, who spoke on the ramifications of the killing of Deyda, how the media was and after the killing of Deyda Hydara, said Deyda's killing is still unresolved.
"I must first and foremost register my disappointment at the rate of investigation into the murder of Deyda," he said, adding that the process "has been very slow".
"We are, therefore, calling on government to reopen investigations on the unresolved murder of Deyda, after ten good years," he said.
"Ten years is too long for family members and loved ones to wait just to see justice prevail," he said, adding that justice delayed is justice denied "and in this case justice is denied to our colleague, Deyda Hydara".
Speaking on the effects of impunity, Madi Jobarteh of TANGO, defined impunity as letting someone who commits a crime go unpunished eitherbecause by law or practice the powers that be protect those people from punishment for the crime they have committed.
He called on all and sundry to fight impunity, challenging members of the media to come out with strong resolutions that will lead to the arrest and prosecution of Deyda's killers.
Impunity has chilling effects on freedom of expression, he said.
The "continuous environment of harassment and intimidation that goes unpunished over a long period of time", instills fear in people and causes self-censorship hence affects the quality of journalism and other professions or vocations in a country, he added.
In his remarks on the occasion, Ousainou Darboe of the United Democratic Party (UDP), asked: "What do we do to put an end to Impunity?"
What is affecting the politicians affects the journalists, he said, adding that generally Gambians are suffering from the persecution of journalists.
He added that the "improper investigation" on the death of Deyda Hydara is a reflection of the society.
Although impunity could not be eradicated, he said, it could be reduced to a minimal level.
Other speakers on the occasion were Omar Jallow of PPP, Halifa Sallah of PDOIS, and Minority Leader Hon. Samba Jallow.
All of them spoke against impunity, calling on the people to discourage or put an end to impunity in society.
They said its ramifications are far-reaching, as it instills fear in people, disempowers the citizenry, stifles intellectual property and talents, retards progress, and fuels backlash in society.
The Point's co-publisher Pap Saine gave the vote of thanks.
Read Other Articles In Article (Archive)