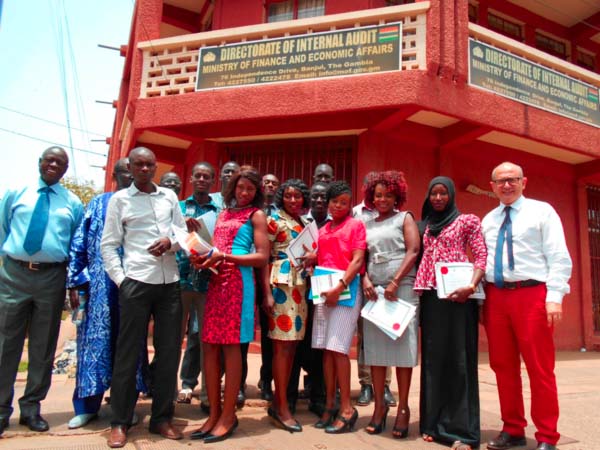 During a closing ceremony held at the Ministry of Finance in Banjul on 22 April 2015, 15 officials of the Internal Audit Directorate including the head of audit at GRA were tested and certified in a Public Procurement Audit training course held over the preceding two weeks.
The training course was geared toward capacity building in all areas of procurement audit, and was carried out by the Gambia Public Procurement Authority, GPPA, under support provided by the EU-funded long-term Technical Assistance Team.
It was held as part of the EU-funded support to the implementation of PFM reforms in the area of procurement in The Gambia.
With GPPA's main responsibility being the regulation and monitoring of public procurement in The Gambia, the IAD works as an auditing partner to ensure that the public procurement system is operating effectively and efficiently, and delivers value for money.
Speaking at the ceremony, Kebba Sallah, Director for Career Development and Training of the Gambia Public Procurement Institute (GPPI), highlighted the importance of the training session, noting that this group of participants are the right channels to use as far as audit is concerned, as they play a vital role in public procurement.
He thanked the EU on behalf of GPPA, for their continued support in the development of the country and for playing a pivotal role in improving The Gambia's public procurement system.
Mr Sallah urged the IAD team to maintain the impeccable enthusiasm and vigor they demonstrated throughout the training and encouraged them to make good use of the opportunity given to them, not only to learn but to also implement at their various sections.
Mr Sallah further urged the IAD team to keep the conversation with the trainers active so as to address issues as they come, and identify opportunities for more advanced training in the near future.
Modou Ceesay, Director at IAD, expressed delight to be part of the training activity, adding that it came at a time when it was most needed.
Mr Ceesay said the training course has enabled them to enhance their knowledge in their various fields, adding that he is confident they can tackle even the most complex of situations when they arise.
He also stressed that one of the main priorities of the Directorate is to maintain a team of professional audit staff with sufficient knowledge, skills, experience, and professional certification to meet the requirements of the charter.
He ended by thanking the GPPA and the EU for the lifetime package rendered to them, and promised they would put the knowledge gained into good use.
Certificates were given to all the participants at the end of the training course.
Read Other Articles In Article (Archive)