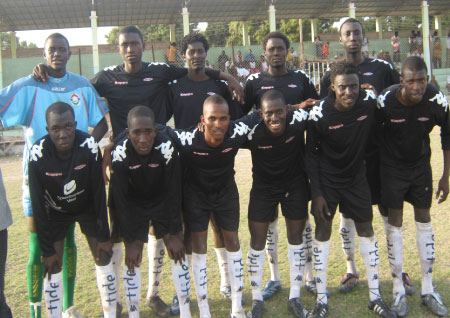 Malamin "Faraba" Fofana, team manager of the Gambia Ports Authority (GPA), has said that he pities Steve Biko, who have completed 14 games without a win after their deadly 1-1 draw with fellow relegation fighters Interior on Sunday.
Biko's hope of ending their disastrous performances in the 12-club GFA division one league suffered a severe blow after Interior came from an early 1-nil down to snatch a dull 1-1 draw in the week 14 fixtures played at the Independence Stadium in Bakau, a result that has kept Bakau giant killers at the bottom of the table with nine points on the back of only eight games left.
Their next opponents are GPA when the two sides meet in the week fifteen fixtures at the Serrekunda West Mini-stadium on Saturday, a game Faraba believes will be a winning come back for the ferry boys who have also failed to win since the start of the second round.
"I pity Biko because they will find it difficult to move from the relegation zone when they meet us (GPA) because we are also trying to avoid further setback; it is not disrespect to them or whatsoever," the GPA team manager told this reporter.
Faraba, as he is wide known, was responding to questions by reporters following his side's 0-0 draw with the Gambia Armed Forces in the week fourteen encounter of the Gambia Football Association first division league played at the Serrekunda East Mini-stadium.
He said: "If you don't have a good squad I am sorry for you in the second round because teams will soon start to play twice a week.
"If we start scoring goals I am sorry for the teams because my coaching staff are working hard on the team's scoring ability."
Read Other Articles In Article (Archive)