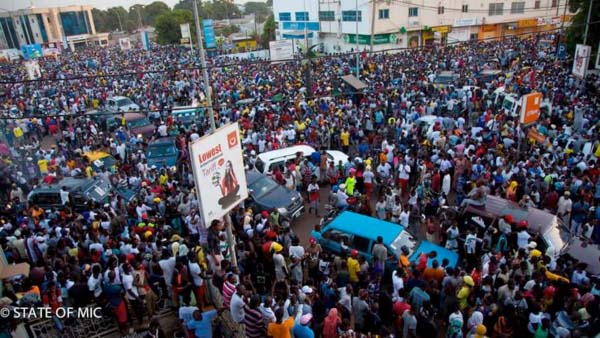 Gambians from different works of life have been celebrating the fall of the 22-year rule of the government of Yahya Jammeh which was voted out at the 1st December presidential election.

The Independent Electoral Commission (IEC) on Friday declared that the incumbent president, Jammeh, has lost the election to a political newcomer Adama Barrow, who was backed by a coalition of seven political parties and an independent candidate.
Mr Barrow won with 43 per cent of the total votes cast and Jammeh, 40 per cent while the third candidate, Mamma Kandeh of the Gambia Democratic Congress got 17 per cent.
A lot of the celebrants, mainly consisting of women and youth, said the change of government is the beginning of a New Gambia as the incoming government promised to give Gambians the freedom deserved and put an end to impunity.
Lamin Camara, a native of Latrikunda Sabiji, said: "I feel good about the change and I want the new government to make a massive reform in the justice system and revive the economy and set a commission of enquiry."
Kemo Bojang, a resident of Bakau, said their celebration of the opposition victory does not mean hatred to the incumbent government.
"We don't dislike Jammeh. No we don't. We disliked his system of government and even if Barrow also wants to also shift from the ideal democratic norms of government, we will be up against him".
Mariama Jabang of Brikama said: "The new regime will change everything in the interest of the citizens. I am confident of this because the coalition knows the problems of Gambians and they would do everything to address it.
"There is high hope in this new regime."
In an online conversation, Ebrima Sallah, a Gambian based in Taiwan, said: "I feel very happy and proud. I have never felt like this in my life. We have gained our freedom again.
"This election result is an indication to the whole that power truly belongs to the people. Every Gambian should be proud of this."
Mr Sallah said though he has high hopes in the new regime to deliver up to expectation, he did not expect them to perform magic immediately.

"But I believe with time, they will transform The Gambia greatly," he affirmed.
He explained that he has great trust in the coalition since it was formed because it consists of "very strong and diverse team" that can put The Gambia in its rightful place in the global arena.
Sallah said Gambians should be united once again now that the politics has ended.
"Gambians should unite behind the new government and work together for the betterment of our dear nation," he advised.
Read Other Articles In Article (Archive)