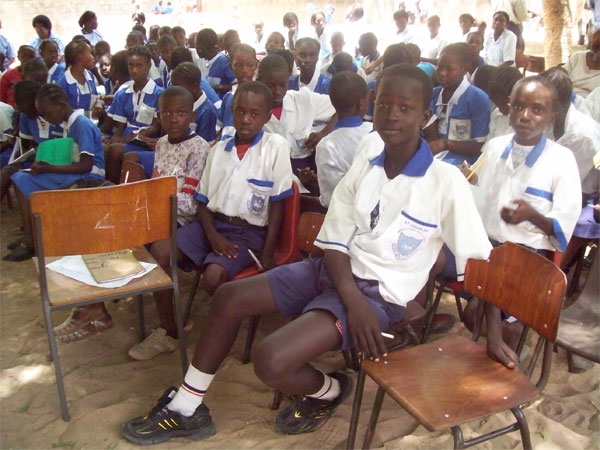 St. Charles Lwanga Lower Basic School recently joined millions of schools around the world to get politicians aware of their commitment to providing quality education for all in the world.
Saikou Jawara, a senior teacher at the school, presenting the programme on the theme: Politicians Back to School Day," and on quality and education for all, asked the children what world record meant. "Today's project will go into the Guinness Book of Records because it will be the highest gathering of educational institutions in the world on the same day," he said. He cited the Cheetah as the fastest animal on earth, the Saudi Arabian boy who covered the whole Quoran at a tender age which no other has done and said they were all record breakers and are registered in the Guinness Book of Records.
He and the learners pointed out that education is made possible through dedication, teaching materials, good, caring and trained teachers.
Jawara said, "Seven Hundred and Fifty Million in the world cannot read and write and one out of four girls can neither read nor write. Much is needs to be done." The class suggested that this trend has its roots in early marriage, poverty, and distance from school. "Many parents fear to send their children to far away places for school." Jawara said.
They said that the uneducated ones cannot use the Internet, cannot read road signs and cannot catch the right buses. "Let us change our minds, our attitude and take education as our number one." Jawara said.
The gathering was not happy that Fabakary Tombong Jatta, their politician could not be present to take their message and questions. Present were Rev. Fr. Francis Eyo, Francis Gibba, headmaster, Pa Musa Camara, vice chairman of the PTA, Abigail Davies Principal of the Vocational School, Sophie Gomez, senior teacher, Olga Sambou, another senior teacher and many dignitaries.
Read Other Articles In Article (Archive)