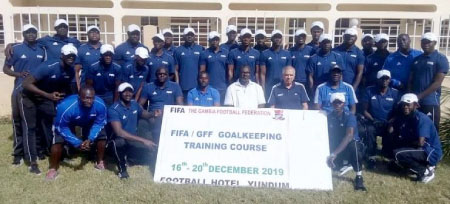 Gambia Football Federation (GFF) has started a five days goalkeeping training course for League division one and two goalkeeper trainers at the National Technical Training Centre.

The training organised by the GFF and funded by FIFA is one among a series of technical programs embarked by the GFF Technical department as part of the Federation's desire to equip all core areas of football and capacitizing the technical competence of the office bearers (Coaches, Administrators Referees and Medics).
Declaring the Course open, GFF President Lamin Kaba Bajo said, the Federation has registered huge success in terms of training for the year 2019.
"This is one of the areas we have been looking forward to and if you look at the sequence of events in the past couple of years, we have registered huge success."
He cited refereeing and coaches as good examples that were recently completed all meant to equip the technical capacities of the technicians.
Bajo noted that there cannot be any significant development in football without capacity building and thus urged the participants to make good use of the opportunity created to enable them make an impact to their various clubs. "There is no progress without capacity building and it is the reason the GFF gives a lot of attention to capacity building for people who will be running football".
He thanked the course Instructor Alejandro Heredia for the opportunity accorded and assured him of the lessons learnt would be put into good use.
For his part, the CAF and FIFA Technical expert Mr. Alejandro Heredia who also serves as the Course Instructor expressed delight in coming to The Gambia to conduct the training.
The South African born thanked the Gambia Football Federation (GFF) for their positive foresight while urging the participants to concentrate and make good use of the training.
"On behalf of FIFA, it's a pleasure for me to be here for the first time in Gambia for such an important training and i want to say that this course is very important and you should all take it very serious".
He noted that the demand for the rapid growth of football is such that there is always room for improvement.
Technical Director of Gambia Football Federation (GFF) Sang Ndong indulged on the participants to make good use of the knowledge gained from the training.
He thanked Gambia Football Federation (GFF) president Lamin Kabba Bajo for the support to ensuring that the first ever Goal keeping trainers Course is held.
Secretary General of the Gambia Football Coaches Association Amat Cham thanked the GFF for the foresight and implored on the participants to take the course seriously. The training Course will wrap up on Friday 20 December, 2019.
Source-GFF
Read Other Articles In Article (Archive)