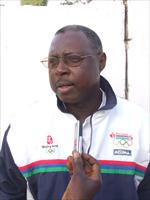 The Gambia National Olympic Committee (GNOC) is looking set to join all categories of workers across the country to commemorate Labour Day.
This information was contained in a press release from the GNOC signed by its Executive Director Lawrence Bruce.
The full text of the Press release sent to Pointsport reads:
This year the Gambia National Olympic Committee (GNOC) will join all categories of workers in The Gambia to commemorate Labour Day and celebrate the 21st Edition of May Day Mass Sports at the Independence Stadium in Bakau.
This year's celebration will commence from Saturday 30th April 2011 with Table Tennis and Volleyball competitions as a prelude to the May Day Mass Sports.
The May Day Mass Sports will showcase traditional track and field events with fun games in the following areas: 100 Meters Women, Sack Race Men, 4x100 Meters Relay Women, 60 Meters 3-Leggged Race Women, Late for Work Race Women, Musical Chairs Men, Musical Chairs Women, Tug of War, Greasy Pole Men, 60m Potato Race for Women, 70m Heads of Department Race, 70m Team Managers' Race and 70m Cabinet Ministers' Race.
To date quite a number of companies have registered to participate in the mass sports and more are expected to register before 15th April 2011.
Alongside the preparation of this Mega event, the GNOC Sports Award Committee is also embarked on researching for candidates to be considered for awards in six distinct areas of worthy recognition, namely the most outstanding Sports Personality Award, Hall of Fame Award, GNOC President's Award, Sponsorship for Sports Awards, Posthumous Merit Award and Merit List Awards.
To facilitate the awards process, the committee has also embarked on a series of weekly radio programmes primarily to explain the criteria used for the awards but most importantly to seek the assistance and co-operation of the general public and the sporting community in particularly, in its quest for this year's nominations.
The committee envisages that the public will nominate sporting models worthy of emulation and sportsmen and women whose overall attitude is indicative of devotion, dedication, commitment and a sense of duty to sports generally in order to suitably fit the upcoming awards.
The celebrations of the 21st Edition of May Day Mass Sports will culminate with the Annual Sports Banquet and Awards Ceremony a week or two later, which date will be confirmed in due course. 
Read Other Articles In Article (Archive)