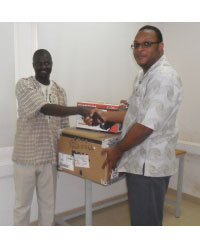 CIAM, a public health and development centre, presented two new computers and five flash drives to the Association of Health Journalists of The Gambia (AOHJ) yesterday at CIAM's main office in Kanifing.
Speaking at the handing-over ceremony on behalf of  Cherno Jallow, vice-chairman of CIAM Board of Trustees; Executive Director of CIAM Samuel Anya said they were pleased to hand over to the AOHJ, which forms part of the project entitled "Strengthening Capacity to Utilize Research Evidence in Policy Making in The Gambia".
"The project is supported by the Alliance for Health Policy and Systems Research hosted by the WHO in Geneva and the Wellcome Trust UK. The component of the project for the health journalists will focus on enhancing their understanding of health terminologies and concepts," Mr Anya said.
According to Mr Anya, the training component will strengthen their capacity to utilise research evidence in the conduct of their work as health journalists.
The gesture will enhance the quality of the work undertaken by the health journalists in the country, he said, thanking the Alliance for Health and Systems Research and Wellcome Trust for providing the computers and accessories.
Mr Anya also thanked the members of the health journalists association for their continuing partnership, saying they are looking forward to a more fruitful collaboration with them.
The president of the AOHJ, Pa Modou Faal, said they were grateful for receiving the equipment.
He said that in November 2009, a joint proposal was submitted to the Wellcome Trust by the select committee of the National Assembly, CIAM, Public Health Research and Development Centre and his association.
"As far as this project is concerned our role as journalists is very crucial," Mr Faal said, calling on his members to work closely with the National Assembly Select Committee on Health.
He advised his members to make the best use of the opportunity given to them by the Alliance for Health Policy and Systems Research and Wellcome Trust through CIAM.
He also promised the donors that the items presented will be used prudently.
Read Other Articles In Article (Archive)