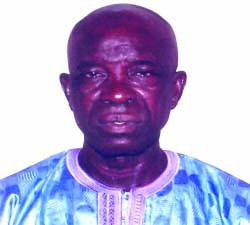 The Gambia National Olympic Committee (GNOC) yesterday Thursday briefed the Media on their various networking, consultations and collaborations they had with other associations, as well as achievements of athletes, among others aspects, during the recently concluded London 2012 Olympic Games.
They also distributed sporting materials to national sports associations at a ceremony held at the GNOC conference hall.
 Speaking at the briefing, Alh Momodou Dibba, president of the GNOC, said it was an inspirational moment in London, adding that the games were successful.
Mr Dibba added that they also had networking with other associations during the games, which looked at capacity building to help the athletes excel, among other prospects.
He urged associations to use schools as pilot projects to tap talents, and also challenge all associations to have their national championships next year so they can start identifying talents prior to the next Olympic Games.
Peter Prom, secretary general of the GNOC, said the Olympic Games was their mission but that they were unfortunate to only have two athletes to represent the country.
He added: "We are proud of the two athletes that represented the country because they did well."
 He also highlighted the various meeting they had with other associations during the games and the strategies they discussed to support sports associations and athletes.
Dodou 'Capi' Joof, president of the Gambia Athletics Association, highlighted the impressive performance of the country's athletes and the record-breakings they made during the games.
"This shows that we have talents but what they need is encouragement and financial support because sport is expensive," he remarked.
After the briefing, the first vice president of the GNOC and IOC member Beatrice Allen made a presentation of sports equipment to school sports teams, the basketball association, athletics association, volleyball association, handball association, wrestling association, martial arts association, chest/draft association and Olympafrica Centre. 
Read Other Articles In Article (Archive)