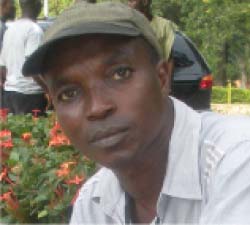 Gambian artist, painter and graphic designer Momodou Camara, alias Mo Camara of Art-kunda Artists Group from Serekunda, has made another epic milestone in Senegal with artistic distinction after a grandiose presentation of Artworks at the Expo International of Arts in Dakar, Senegal.
He was the flagbearer representing The Gambia at the Expo International D' Arts Plastiques. The event took place in Dakar from 15 to 30 November 2011.
Mo Camara and other great African artists, including Ayo Adwunmi from Nigeria, Mor Murf Faye of Senegal and Madam Ino Zeuch from Germany, met at the Expo.
The exhibition took place at the Centre Culturel Blaise Senghor, on the theme: "BAROMETER SOCIAL" an open subject based on human social development.
The event was attended by the diplomatic society of Senegal, the art elite of Senegal and art lovers from the length and breath of the country.
Gambian painter Mo Camara did extraordinarily well with his explicit artistic expression.
He caught the attention of exhibition moving suspended visitors in the hall of Centre Culturel Blaise Senghor with his dazzling brush movement of colour, where he wonder struck those who were not novice.
His subtle touch and use of colours and space and the tamed flow of design perspective which explored both majestic and kaleidoscopic presentation of the artwork - "THE MYSTRY" - was a true work of a master.
After his amazing Expo championship in Nigeria last month, artist Mo Camara has made The Gambia proud again in Senegal, this time around at the apex of African art masters with a piece of a master class craftwork of true genius.
Read Other Articles In Article (Archive)