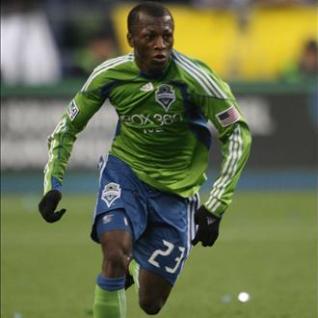 The defending MLS champions Colorado Rapids are looking for yet another laurel in the MLS by winning the 2011 MLS Cup.
The club's new signing, Sanna Nyassi, was selected last November by Vancouver Whitecaps FC as their first pick in the 2010 MLS Expansion Draft, but was immediately traded to Colorado Rapids.
The Gambia star will be making his first club appearance in the MLS this weekend.
Nyassi has had a good pre-season campaign with the Rapids after scoring and assisted in the scoring of other goals, as his new club, the Rapids, defeated Ventura County Fusion 6-3 recently in a warm-up match ahead of the new MLS season.
The Rapids will begin their title defence this Saturday night at Dick's Sporting Goods Park, where they will face the Portland Timbers. Colorado intend to begin 2011 the same way they ended last season: as champions, according to team coach Gary Smith on club's site.
"There has been a lot of criticism about the group, even though we won the championship," Smith admitted. "I'm not quite sure what we've got to do to be a little bit brighter in people's minds."
"We aren't fashionable; we aren't one of the big entities or franchises," the English native continued. "We go about our business, but of course opening this weekend with a victory and a good competitive performance is going to be important for the team. We want it for the fans and for the organization and to really build on the back of last year.
"Forgetting now about how people perceive us outside is most important for the team and for the fans."
The roster of the MLS Cup winner has seen few changes in preparation for the 2011 season. The most noteworthy addition is the signing of English Premier League veteran Caleb Folan Wednesday afternoon. This signing should help to confirm that the Colorado Rapids have one of the deepest benches in the league.
As the Rapids kick off their 2011 season, the strategy is to continue doing what they did last year and Coach Smith will also be counting on players like Andre Akpan, Sanna Nyassi and Quincy Amarikwa on the score sheet.
"We have made good improvements in the trade and transfer market, both domestically and abroad," the 43-year-old coach said.
Read Other Articles In Article (Archive)