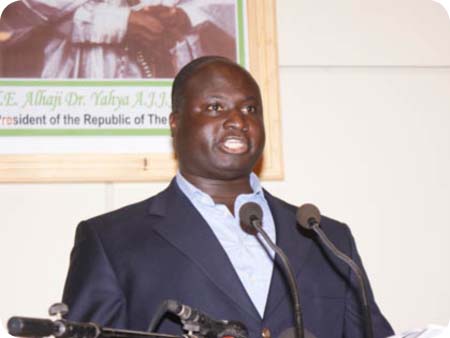 The weekly organised Gambia Golf Association (GGA) Golf Competitions, which was stopped for over a year following the impasse between the GGA and Fajara Club, is set to commence on Tuesday 14 January 2014 at the Fajara Golf Course.
The competition is open to both professional and amateur golfers, Ebrima Jawara, GGA president, said when caught by our reporter during golf practice yesterday at the Fajara Golf Course.
Mr Jawara noted that the GGA will work closely with Fajara Club to take the game from strength to strength in the interest of the sport and the country.
They would look at tapping from private and corporate sponsors for the competition, mostly sponsored by him, Lady Njameh Jawara, Gacem among others, he added.
Most of the weekly competitions were being won by professional golfer Fa Kebba Drammeh alias Gambia Tiger Woods. Developments after resumption of the competitions will tell whether this trend will continue.
Meanwhile, after years of wrangling between the Gambia Golf Association (GGA) and Fajara Club, the impasse between the two was resolved on Saturday 11 November 2013 following a meeting held at the Green Mamba Garden Bar and Restaurant and a new chapter of mutual respect and understanding opened.
The expulsion/suspensions of both Ebrima Jawara and Pa Famara Jatta were revoked by Fajara Club on 9 November 2013.
The GGA Committee met on 10 November 2013 and passed resolutions which effectively lifted the suspension of sponsored golf tournaments at Fajara Club imposed by the GGA and paved the way for an MoU to be signed between Fajara Club and the GGA.
At a meeting of the GGA it was resolved that Momodou Dibba, president of the Gambia National Olympic Committee; Alan Collins, Club Captain of Fajara Club; Batch Faye, Trustee of Fajara Club; Modou Drammeh, Secretary General of the GGA; Anthony Tabbal, Treasurer of the GGA; Pa Famara J. J. Jatta, Committee Member, and Ebrima Jawara, GGA President, through a series of face-to-face meetings, e-mail correspondence and telephone conversations, came to a mutually agreeable solution to resolve the impasse between Fajara Club and the GGA.
"Special thanks should go to Momodou Dibba, GNOC President, for his tireless efforts at seeing the impasse resolved," added the GGA resolution.
The resolution states further: "That the suspensions and expulsions of both Pa Famara J. J. Jatta and Ebrima Jawara were revoked by Fajara Club in a letter dated 9 November 2013, therefore, GGA hereby revoked the suspension on sponsored golf tournaments at Fajara Club with immediate effect.
"That the MoU between GGA and Fajara Club be reviewed and signed as soon as possible.
"That all proceedings against Fajara Club Trustees by GGA be terminated with immediate effect."
Modou Drammeh, Secretary General of the GGA, also commented: "We hope that the game of golf in The Gambia will go from strength to strength."
Read Other Articles In Article (Archive)