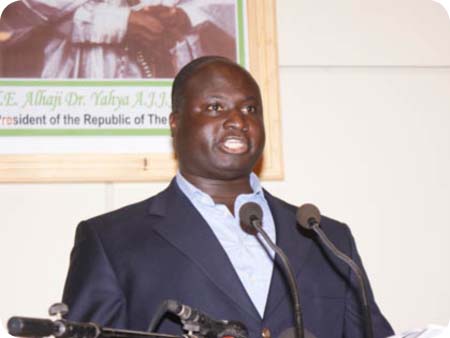 The Gambia Golf Association (GGA) academy will today, 4 April 2014 resume at the Fajara Golf Course.
The academy will resume with 15 students from Bakau New Town Lower Basic School, where the GGA last year (April) in its efforts to decentralize the sport, commissioned the "Golf Nets for Schools" pilot programme.
At the launching of the programme, the GGA presented 3 nets, 125 golf balls, 38 clubs, 20 rule books and tees to the Bakau New Town Lower Basic School.
Pa Famara J.J. Jatta, sports administrator of the academy, said training will take place between 3pm and 6pm, calling on everyone to join them.
For a start they want to begin with 15 students but intend to make it open to everyone in the future, Mr Jatta, who is also the coach of the academy, added.
The GGA targets the grassroots to recruit youngsters to produce someone who can challenge World Number 1 golfer Tiger Woods, said Mr Jatta, also known as JJ Jatta
Golf is improving in The Gambia, JJ Jatta noted, saying the game will continue to improve in the country.
He disagreed with people saying golf is a 'big man' game, noting that Gambian professional golfers are poor but are playing the game. "For me it is not a big man sport; anyone can play it," he added.
"It is a game good for health, even at the age of 70 years you can still play the game," he pointed out.
The GGA is making effort to decentralize golf throughout the country, he said, giving an example of the "Golf Nets for Schools" pilot programme launched in Bakau New Town Lower Basic School.
He thanked the GGA for sponsoring the recent Weekly GGA Golf Competition won by Dodou Kassama.
Read Other Articles In Article (Archive)