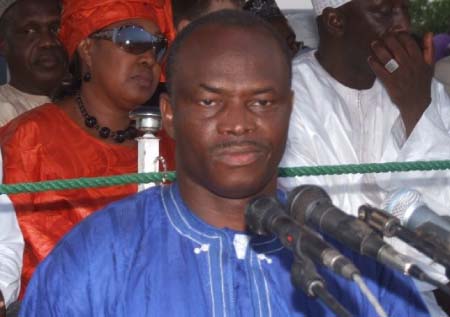 The governor of the West Coast Region, Alh. Lamin Sanneh, has hailed the Australia Development Agency and Enda Diop Agency for providing 10,000,000 CFA to support the integration project for restoring forest in the cross-border space of Southern Senegambia and Guinea-Bissau.
The project was geared towards strengthening the local capacity of the prevention and peace building efforts at the border area of Senegambia and Guinea-Bissau. According to governor Sanneh, the launching of this project was long overdue and very timely since the project was geared towards bringing unification among the sister countries to share common goals in the protection of the natural resources.
He further explained that looking at Senegal and The Gambia there is no difference as they share the same culture, intermarry, speak the same language, have similar traditions and share so many things in common. Therefore, he said, coming up with this type of project, which will be jointly implemented by the three countries with a common goal, was worthy and necessary.
Governor Sanneh thanked the donors for their intervention in ensuring that people participate in the protection of the forest cover by embarking on a massive sensitization campaign in the restoration of the forest cover. He said it was a golden opportunity and appreciation for the people of The Gambia to be beneficiaries of the project, noting that together they could combat desertification and restore forest natural resources. This could only be achieved through unification among member countries by organizing seminars to discuss issues affecting their livelihood and map out the way forward in the best interest of their countries, he said. According to the governor, Casa-Gambia cross border and the ENDA Diop are in the forefront of making sure the forest cover is not only restored but also utilized in the interest of the Senegambian people. He further lamented on the negative attitudes of some of the human behaviour towards the forest cover, which led to the deforestation of the cover. "People have started exploiting the forest randomly without looking at the policy regulation or without looking at the formal line to acquire the forest resources," he said.
There was need for people to change their attitude towards the forest, he said, while thanking the authority of Senegal and The Gambia for their concerted effort at such a wonderful project initiative. "It is a mini-project but if utilized will go a long way in addressing some of the issues affecting our environment," he said, while sighting the effect of climate change and the need for mitigation for a better vibrant forest.
Governor Sanneh advised the two sister countries to work closely in the implementation of the project, saying that together there would be success.
Read Other Articles In Article (Archive)