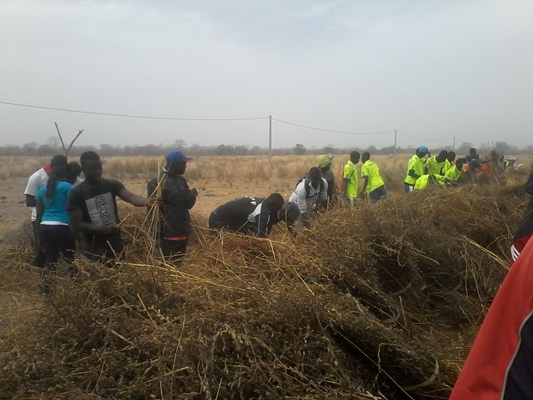 The Gambia Football Federation (GFF) on Saturday 24th January 2015 organised a landmark visit to Kanilai, where the national football authorities led representatives of football teams to work on the President's farms.
GFF president Lamin Kabba Bajo headed the team of more than 250 volunteers.
The team descended on President Jammeh's sesame farms.
Kanilai farm manager Brigadier General Essa Tamba received the GFF team, and thanked the GFF for the large turnout to give a helping hand to the President on his farms.
The proceeds from the farms are ploughed back to the Gambian people, General Tamba said, and added that the President is poised to continue his undiluted support for the development of Gambian football and sports in general.
Lamin Kabba Bajo thanked the people of Kanilai for the warm hospitality, and expressed the football federation's happiness to work on the President's farms, as the "father of the nation."
"His Excellency the President is the chief patron of GFF and, therefore, coming here to lend him a hand of help and support is in the right direction."
It is the desire of the GFF to render selfless services to the President in the form of partnering with him in his crusade for national food self-sufficiency, Bajo went on.
:It is a genuine cause and every Gambian must step up for it," Bajo declared, further stating that the GFF will continue to support the President in realizing the Vision 2016 objectives.
Lamin Kabba Bajo went on tomention the support President Jammeh has given to Gambian football, including all national teams. He cited the monetary gifts Gambian players received from the President after the team's triumph at the African U-17 Championship in Algeria in 2009, describing that as a milestone in Gambian sports.
Similar contributions have been made by the President to the GFF, which according to Bajo entices the youths into sports, particularly football.
General Alhagie Martin thanked the GFF leadership and the volunteers for their work on the farms, and assured the team of President Jammeh's unflinching support to Gambian football.
General Martin presented more than 260 T-shirts to the GFF. 
Read Other Articles In Article (Archive)