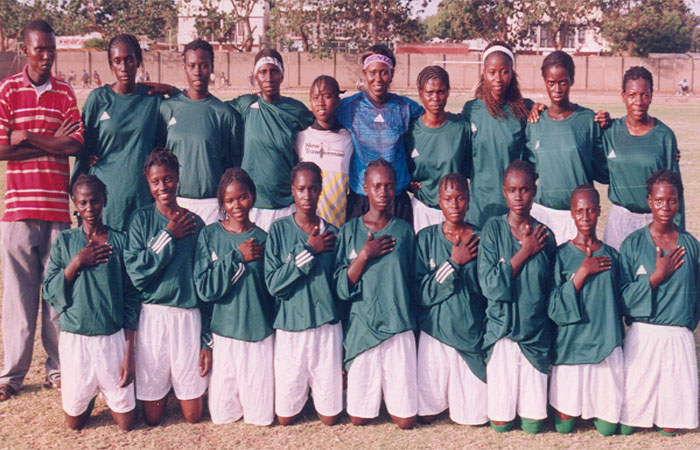 The stage has been set for the commencement of the 2009 Gambia Football Association female league billed for Saturday 2nd May 2009.
Six teams will compete in the top flight league while five will feature in the lower league.
Des Samba Mbenga, Chairman of the Committee in charge of GFA Female Football said the league matches will be played during weekends at the Sea View football Field at the Independence stadium in Bakau.
"We would have started on Friday but due to the May Day Sports we shifted it to Saturday 2nd May 2009," said the new chairman of the committee on female football.
The GFA first division female league is currently contested by Red Scorpions, Company Ten, Interior, Abuko United, Makasutu and newly promoted Kinteh's FC.
Relegated Future Bi, City Girls, Armed Forces, Jam city and Jeshwang United make up the lower league.
Week one Fixtures
Week one Fixtures
Saturday 2nd May 2009
City Girls Vs Armed Forces (2nd Division)-2.30Pm Sea View
Company Ten Vs Makasutu -   (1st Division) - 4.30pm -Sea View Field
Saturday 2nd May 2009
City Girls Vs Armed Forces (2nd Division)-2.30Pm Sea View
Company Ten Vs Makasutu -   (1st Division) - 4.30pm -Sea View Field
Sunday 3rd May 2009
Jam City Vs Jeshwang United (2nd Division) - 2.30Pm -Sea View Field
Interior Vs Kinteh's - Sea View Field (1st Division) -4.30pm - Sea View Field
Sunday 3rd May 2009
Jam City Vs Jeshwang United (2nd Division) - 2.30Pm -Sea View Field
Interior Vs Kinteh's - Sea View Field (1st Division) -4.30pm - Sea View Field
Results of Yesterday's Week Fifteen Matches
Wallidan 0-0 Africell
Sea View 1-0 Hawks
Samger 2-0 Tallinding
Results of Yesterday's Week Fifteen Matches
Wallidan 0-0 Africell
Sea View 1-0 Hawks
Samger 2-0 Tallinding
Today's Matches
Bakau United Vs Gamtel 4.30 -Brikama
Real l Vs Brikama United 4.30- Manjai
Today's Matches
Bakau United Vs Gamtel 4.30 -Brikama
Real l Vs Brikama United 4.30- Manjai
Read Other Articles In Article (Archive)