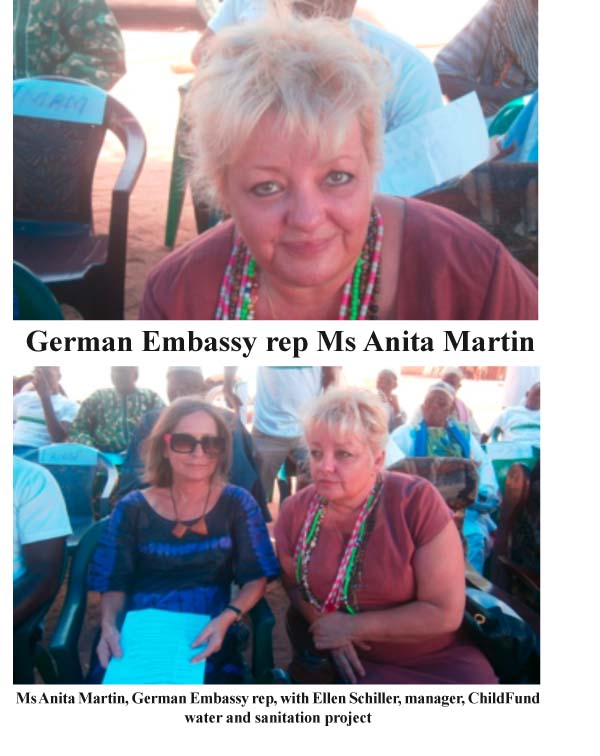 Ms Anita Martin, representative of the German Embassy in The Gambia, has said Germany is one of the three largest bilateral donors in The Gambia's water sector.
Each year, the German government spends around Euro 350 million on programmes and projects in the field of water internationally.
Ms Martin made this disclosure during the official launching of more than D14 million water and sanitation project called, "building capacities for a sustainable access to potable water and hygiene standards", in 17 remote villages in West Coast Region.
Water is a priority area of Germany's development cooperation in 28 countries, mainly in sub-Saharan Africa, North Africa and the Middle East, she said.
Germany's ongoing development cooperation projects are helping some 80 million people worldwide to benefit from improvement of their water and sanitation services, she went on, adding that she was delighted to launch the project funded by the German Federal Ministry for Economic Cooperation and Development (BMZ) and ChildFund Germany.
She said the project came one year after the completion of the previous and a similar project, which had been successfully implemented on water and sanitation.
The current project, the second they are launching, would provide sustainable access to potable water and hygiene standards for another 30,000 inhabitants in 17 remote villages of the West Coast Region, she announced.
"Germany in cooperation with Childfund Germany provides over D14 million for this new project," according to the German embassy official.
"The objective of the German Federal Ministry for Economic Cooperation and Development is to provide 30 million people in sub-Saharan Africa with access to improved water and sanitation services by the end of the year."
Ms Martin further said the target of the 7th Millennium Development Goal is to "halve by 2015 the proportion of people without sustainable access to safe drinking water and basic sanitation".
Clean water is fundamental to life and all progressive endeavours, she continued, adding that if available in sufficient quantity, clean water acts as a catalyst for a country's development.
The water sector is, therefore, a priority of Germany's development cooperation, she stated, adding that providing access to clean and safe water should not stop at being a theoretical statement, but must be realised.
"It is a constitutional promise, and to fulfill it, Germany, the Gambian Government, and other partners would continue to cooperate," she said.
"We have cooperated as friends and partners in the last 40 years and we will continue to cooperate in the future," she reaffirmed.
She, therefore, thanked all those who have contributed to the successful implementation of the project, especially ChildFund Germany, their local partners and the Gambia government. 
Read Other Articles In Article (Archive)