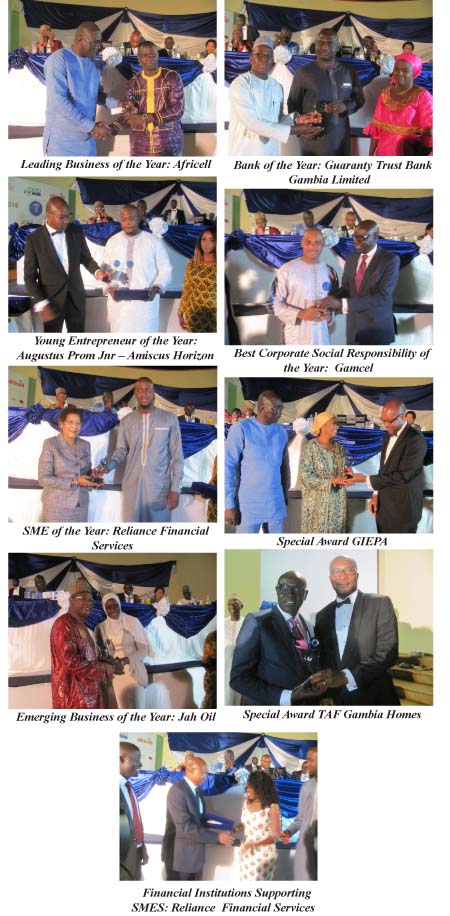 The Gambia Chamber of Commerce and Industry (GCCI) has again been earnestly commended for its significant strides in promoting business in The Gambia and the country's economy.
This commendation was made on Friday night by Trade Minister Abdou Jobe at the GCCI Business Awards Dinner 2016, held at the Ocean Bay Hotel.
The occasion, which brought together people from all spheres of the public and private sector, was held to recognize and award the best business operators – companies and entrepreneurs – in The Gambia for the year 2015.
Businesses and entrepreneurs that have done extremely well over the year received merited awards from the GCCI, presented to the winners by eminent personalities at the occasion.
Among the seven main awards presented, The Young Entrepreneur of the Year was won by Augustus Prom Jnr of Amiscus Horizon; the SME of the Year went to Reliance Financial Services; the Emerging Business of the Year went to Jah Oil; the Financial Institutions Supporting SMES award was also won by RelianceFinancial Services; the Bank of the Year award was captured by Guaranty Trust Bank Gambia Limited, the Best Corporate Social Responsibility (Business/Company) of the Year award went to Gamcel, and the Leading Business of the Year Award was captured by Africell.
Awards were also presented to TAF Gambia Homes and the Gambia Investment and Export Promotion Agency (GIEPA)
Minister Abdou Jobe, who represented GCCI Chief Patron, H.E. Sheikh Professor Alhaji Dr Yahya A.J.J. Jammeh Babili Mansa, at the occasion, said GCCI's contribution to the growth and development of business and entrepreneurs in The Gambia "is immense".
He also commended the private sector, saying it has brought about transformational and innovative change in the country
Minister Jobe, who outlined Government trade policies and programmes to support the growth of the private sector in the country, said the Gambia Government under the leadership of President Jammeh, has been working hard to provide and maintainan environment conducive for private sector operation and growth in the country.
"When we the government and the private sector work together we can continue to provide tremendous growth and development," Minister Jobe said, calling on the private sector to earnestly work with government on how to collectively register development in the country.
He also commended the Chief Guest of Honour and Speaker at the Awards Dinner, TAF Gambia Homes CEO Mustapha Njie, for the great success he has registered in his business and as an entrepreneur over the years.
In his remarks on the occasion, TAF CEO Mustapha Njie, who spoke on the theme African Entrepreneurs – "The Challenge of Globalization", emphasized passion, perseverance, apprenticeship and learning, hard work, reputation, competitiveness and other virtues as key to achieving a successful business in this day and age.
The GCCI President Muhammed Jagana, commended all those who supported the event in one way or another, especially the main sponsors and partners of the event, such as Africell, TAF Gambia Homes, Guaranty Trust Bank, and BPI Tourism & Services Ltd.
Read Other Articles In Article (Archive)