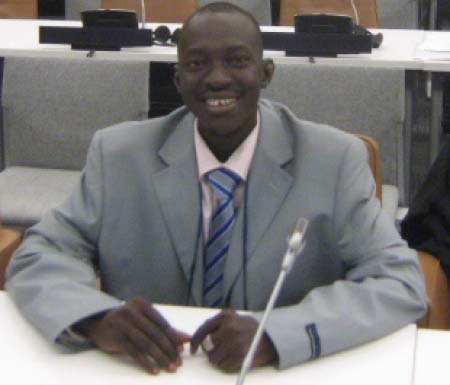 The deputy editor-in-chief I of The Point, Nfamara Jawneh, returned to Banjul recently after attending the 9th Annual Youth Assembly at the United Nations.
Jawneh, a columnist on youth affair, was among 600 youth leaders in New York City, USA, that discussed, among other issues, how young people could contribute to the attainment of the Millennium Development Goals (MDGs).
Speaking to this reporter in an exclusive interview, the youth activist said it was a pleasure for him, being the only Gambian, to go to New York for such a high-profiled youth event.
"Youth Assembly (YA) is an amazing programme that brings young people together from all over the world at the UN to discuss issues of common interest," he said.
According to the World Youth Parliament national president, the YA is one of the most inspirational and life-changing events he has ever attended. "The visit to the UN Permanent Missions gave us the opportunity to have firsthand information on how the global body operates. This was great for some of us who are very much interested in world politics and international issues in general," he said.
Jawneh said that as the MDGs deadline draws closer, many people in The Gambia are still ignorant of what the global developmental agenda is all about.
"I intend to use my experience and knowledge from YA to involve more young people in this country in genuine activism on the MDGs and to initiate more youth-led projects," he said.
"I am very grateful to The Point for their continued trust and confidence in me," he said, while thanking the management of The Point for giving him the opportunity to participate in the YA.
He also thanked the US embassy in Banjul for issuing him a VISA to enable him to participate in the YA.
He used the interview to challenge the private sector in the country to consider sponsoring delegates to the YA.  "This year all the Middle East and Latin American delegates were sponsored by PEPSICO. To me this is a real sense of commitment from the side of this multinational company," he said.
Read Other Articles In Article (Archive)