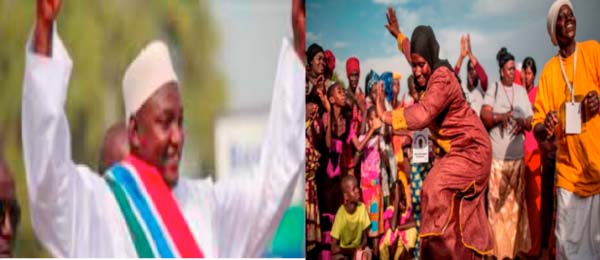 First, She-She-she begins by congratulating President-elect Barrow for a historic victory against the incumbent, in the December 1 presidential election.

Everyone contributed to the victory of the coalition and, in particular, women of The Gambia.
During the campaign, women have played a vital role in mobilising their fellow women, sensitizing them on holding on to their voter's card firmly and not to sell it to any individual.
Women belonging to different political parties stood by the coalition and ensure their victory in various ways.
Perhaps most important was the emergence of a female presidential candidate, this time, who was the only female in a coalition of 8 political leaders, that emerged victorious at the end of the day.
During the official campaign period, every melodious song, good dancing and loud claps belong to women, as well as every delicious 'benachin', 'yassa', 'mbahal', 'futoo', 'durango', and the list could go on, was cooked by women.
Now that the campaign is over, the election is over and a winner president-elect Barrow is chosen, "how should we as a nation and a new government, come January 2017, define the role of the women of our dear country?"
Yes, we are women, the mothers, sisters, cousins, daughters, aunts and wives to everyone, including the president-elect.
But in his new government to be, we should be more than destiny shapers of presidents both past, current and the future; rather, we should be running this Government side-by-side with the men.
The first thing that I want to remind the president-elect is for him to know that 'women's rights are human rights' and, that being the case, it is not and should not be negotiable at any cost.
The president-elect should not have a government in place that defines Gambian women as clapping, singing, cooking and dancing beings, that will only be put in the picture when it comes to celebrating the achievement of men; rather they should be at the forefront of every development agenda.
We want and deserve a government that will have a 50/50 representation of both men and women side-by-side.
Women of The Gambia should be accorded equal opportunities with men in Barrow's Government, in terms of access and opportunities for genuine participation and leadership roles in the economy, society and political decision-making processes.
At the National Assembly, where laws are made, which affect all persons living in is country, including the women, they must not only be Nominated Members, but must be given a chance to be elected to the parliament.
What we are asking is not a new thing because The Gambia is known for claiming to empower women, and to promote and protect their rights; so we do not only want to see this proclamation as a lip service, but as something that is seen to be done in the new dispensation.
Women should be seen as an asset in the quest for national development, as a woman will think of the welfare of others when making decisions, as is seen in taking care of a family, a kingdom and a nation.
When we talked about women being at the National Assembly, we do not mean just any nominated woman who does not know the reason why the parliament was constituted in the first place, but we mean there are women who are well learned and deserved to be at the assembly to rub shoulders with men in enacting laws for the country.
So our call is to elect women, and promote 50/50 representation at the National Assembly.
We all know for a fact that women's sexual reproductive health and rights issues are a problem in this country, when it comes to addressing them, due to resistance from men.
So we are saying charity begins at home. If Barrow and his government are friendly towards promoting and protecting the sexual reproductive health and rights of women, then we will see greater male involvement when it comes to building healthier families and promoting healthier relationships at the grassroots level and across all sectors of development.
Remember, women's rights are human rights, and the women should not be taken for granted!
Tackling the maternal mortality rate, especially in the rural areas should be a top most priority of Barrow's government in respect of the right to life and safe motherhood.
We know for a fact that the remote areas of this country need good roads, but also the women in these areas need quality, well-equipped, functional and sustainable health centers that could provide their health care needs.
That is why it is important that the Barrow Government engages women at the rural level in terms of their needs, before imposing any development measures on them.
Accessibility, affordability, availability and quality services delivery in the health sector, and in terms of promoting Sexual Reproductive Health and Rights should be the main consideration.
Under Barrow's Government, we do not want any woman to die while giving birth due to complications that can be managed and prevented.
Under Barrow's Government, we want every child born in The Gambia to have his or her needs met, and family planning is the answer to that.
Under Barrow's Government, we want safe abortion to be legalised in terms of unwanted pregnancy due to rape, incest and other medical threats to the mother's life.
Under Barrow's Government, we want proper investigation and prosecution of rape cases against women, girls and even babies, and all other sexual offences against women, because the perpetrators of such violence are heartless and deserve no mercy.
It is a known fact that all rape cases are thrown away when the issue of DNA test arises; so we want Barrow's Government to create a special fund that will facilitate any DNA test to secure a conviction in rape cases.
Under Barrow's Government, we want a special correction centre built for women that will preserve their dignity and protect them from abuse and torture, while in prison serving their sentence or awaiting trial.
Under Barrow's Government, we do not want women to be defined as the back benchers, but seen at the forefront of development issues across the country in all sectors.
Under Barrow's Government, if a man can be a minister, so can a woman be a minister.
Under Barrow's Government, if a man is selected Minister in a certain ministry, a woman should equally be appointed a permanent secretary for the gender-sensitive running of that ministry.
Under Barrow's Government, if Barrow can be president a woman can be vice president or minister for presidential affairs or Secretary General and head of the civil service.
As a female journalists making our way up the ladder and capable of writing better stories than our male counterparts, under Barrow's Government we want a female minister of Information or permanent secretary, that will address the issue of harassment and intimidation that female journalist receive in their various working environments, because it is only a woman we can open up to, and who can hear us out and feel the pain and hardship we go through in discharging our duties.
Under Barrow's Government, women access to own farm land must be promoted vigorously. We hope our mothers in the villages will be given rights to their own farmland and given rights to own tractors and other farm implements to work on their farmland, so that they will also start enjoying like the men farmers are enjoying now.
We called on President-elect Barrow and his Government to promote enforcement of the Women's Act 2010, Sexual Offences Act 2013, Domestic Violence Bill 2013, Children's Amendment Act 2016, Women's Amendment Act 2016, as well as the international instruments that promote and protect the rights of women, girls and children such as CEDAW, the Maputo protocol, Banjul Charter, CRC, Children's Act 2005, among others.
We congratulate, once again, the president-elect, and hope and pray that his Government will give Gambian women, who form more than half the population, a befitting role in keeping with respect for human rights and social justice; including the need to facilitate their effective participation in the development of our dear motherland.
Read Other Articles In Article (Archive)