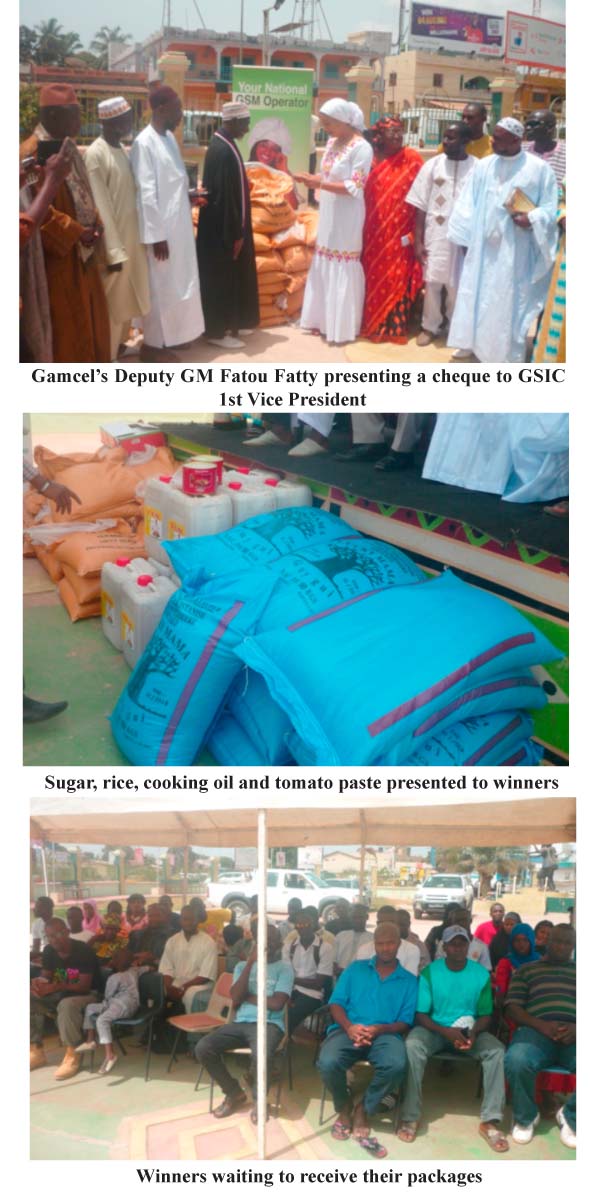 (Issue Monday June 27, 2016)
Gamtel/Gamcel on 23 June 2016 presented 100 bags of sugar and a cheque for D25,000 to the Gambia Supreme Islamic Council (GSIC), to support their endeavours during the holy month of Ramadan.

The D25,000 is meant to facilitate the transportation of the sugar during distribution to needy Muslims across the country.
On the same day, the National GSM operator also presented bags of rice, sugar, gallons of 20-litre cooking oil and tins of tomato paste to 52 winners who have been recharging D50 credit.
In chairing the occasion, Modou Lamin Fofana of Gamcel said that every year they give customers things that are of real benefit to them at the material time.
Gamcel is the nation's own and they will continue to give to Gambians, he said.
He announced that currently Gamcel's Hajj Promotion is on and customers "have a chance of winning a Hajj package by loading D100 scratch card".
Ma Nyima Cham, Gamcel's Senior Marketing Manager, in her welcome remarks on the occasion, described Ramadan as a special month and the most important in the Islamic calendar.
She said Ramadan is a month of sharing and caring, as well as forgiveness.
Ms Cham thanked the Gambia Supreme Islamic Council and the Gamtel/Gamcel managements, as well as their customers for their support, patronage and loyalty.
"It is important for every Gambian to have a Gamcel line," she said.
Ajaratou Ndey Sainabou Jeng, Gamcel's chief promoter, in her remarks, said it is important for one to respect and guard what belongs to them.
"Gamcel is ours," she said, and added: "Gamcel is the nation's own and invests everything it has back to the nation."
She, therefore, called on all to work together for the development and advancement of the company.
"Doing harm to Gamcel means doing it to ourselves," she cautioned.
The auditor of the Gambia Supreme Islamic Council, Alhaji Baba Abubacarr Drammeh, in his remarks highlighted the importance of Ramadan.
He thanked Gamcel for their "generosity", saying Gamcel has always been giving to customers generously since its inception.
"Gamcel gives to Muslims and non-Muslims alike on time," he said. "What Gamcel does in Ramadan is in line with Islam."
The supreme Islamic body in the country would continue to support the company in ensuring it becomes second to none in the country, he added.
He said: "When you start something good, continue to do it if you can, because the Almighty will reward you abundantly."
Concluding, Alhaji Drammeh thanked Gamcel and prayed for continued success in their service to humanity.
Alhaji Sheriff Badjan, 1st Vice President of the Gambia Supreme Islamic Council, assured Gamcel of his office's support, as the company deserves reward and befitting patronage for its generosity across the country.
He prayed for all to continue to witness many more of such gestures from Gamcel.
Alhaji Ebrima Jarjue, 2nd Vice President of Gambia Supreme Islamic Council, prayed to Allah to ensure Gamcel's generosity continues.
Fatou Fatty, Gamcel's deputy general manager, in her brief remarks, said they were delighted to present Ramadan sugar gifts to the Gambia Supreme Islamic Council for onward distribution to Muslims across the country.
She added that they had been supporting education, agriculture, health, religion, among other sectors in the country over the years.
Sarjo Khan, director of Customer Service at Gamcel, in his closing remarks on the occasion, said "the presentation is a tradition".
"Consistency and continuity is important in whatever one does, and that is exactly what Gamcel is doing," he said.
Mr Khan said as a the national GSM operator, they would always give back not only to customers, but to the nation at large
He thanked the Gambia Supreme Islamic Council for being relentless in sharing with and caring for the people.
He expressed delight about the partnership between the Supreme Islamic Council and Gamcel.
"Whatever we do, we first remember the customers and the nation, who have taken us to where we are today," he went on.
He thanked their marketing team, as well as their board members and the government for their support.
Gamcel's PRO Abdoulie Bass, in his vote of thanks, commended all the stakeholders in the Gamcel family and patronage.
The various winners of rice, sugar, cooking oil and tomato paste thanked Gamcel for its generosity, saying the items "will be of great help" to them and their families during the Ramadan.
Read Other Articles In Article (Archive)