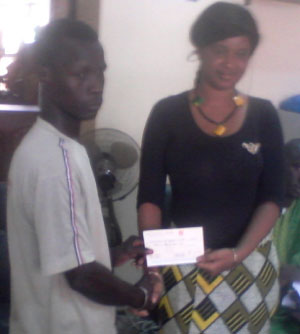 Gamcel, the national GSM operator, on 16 November 2012 presented a cheque for D36,000 to Kombo Kerewan Sports Development Committee (KKSDC) at a ceremony held at Gamcel Headquarters in Kanifing.
Speaking at the presentation ceremony, Serign Ceesay, Marketing Communications Supervisor at Gamcel, said as a national GSM operator, they not only want to make communication easier but also give back to the society.
He added that if sport has the support it needs, it can raise the flag of The Gambia to higher heights, saying sport is one of the areas they are supporting.
Any time sport and any other sector that can raise the flag of the nation to higher heights need support and knock on their doors they would be ready to give a helping hand,  Mr Ceesay said, adding that their aim is to raise the nation's flag high.
He noted that the amount presented to KKSDC was small but that is just the beginning, adding that as far as the partnership is concerned they are looking forward to working hand in hand with them.
They would be able to support if they are supported, which is by people using their products, he said, adding that the more people buy and use their sim or line, the more they can support  or give back to the people.
The funds presented to KKSDC was from the people of Kombo Kerewan and those using Gamcel line, he said, adding that any time the people make calls they contribute to national development.
He said Gamcel are always proud to be associated with sport, adding that they were the main sponsor of the 2005 U-17 tournament hosted by The Gambia and were also the main sponsor of the country's U-17 in the Peru, Algeria and Nigeria tournaments.
Just for this year they have spent over one million dalasi in sport and they want to do more but are also investing in other sectors.
Almost in all nawetan centres they have teams they are supporting with finance and materials, Mr Ceesay also said.
Ismaila K. Jammeh, secretary of KKSDC, thanked Gamcel for the big support, noting that for the past two years they have been knocking the doors of companies but Gamcel has now made their dream come true.
Modou Bojang, chairman of KKSDC, also spoke at the presentation.
Read Other Articles In Article (Archive)