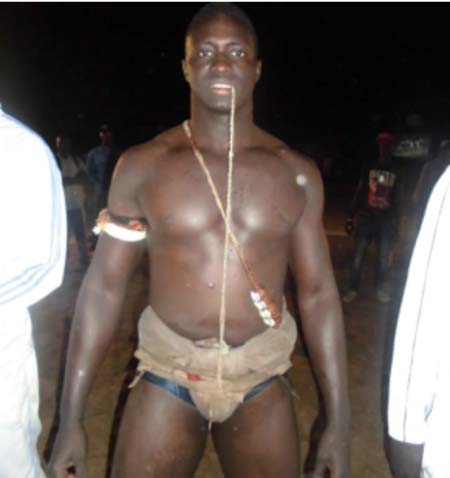 The Gambia national wrestling team has finally arrived in the Senegalese capital city of Dakar for the 7th edition of the Economic Community of West African States (ECOWAS) traditional wrestling tournament that will officially open today (Friday) at the StadeIba Mar Diop.
The Gambian team, which arrived early hours of Thursday morning, is accommodated at the famous Hotel Faidherbe in the heart of the buzzing city.
The Gambian delegation is headed by Alhaji Abdoulie Bojang, desk officer for wrestling at the National Sports Council; and Pa Suwareh Faye, deputy director of Planning responsible for sport.
The Gambian wrestling team comprises 5 wrestlers who will be competing in different categories during the 3-day tournament.
They are Papa Sowe for 66kg, Rambo for 76kg, Leket Bu Barra for 86kg, Viper for 100kg, and Move up Shoulder for 120kg.
They all passed the weighing test, which was supervised by the organizers on Thursday afternoon.
At the balloting, The Gambia falls in Group D together with Burkina Faso, Guinea Bissau and Togo in the grouping category of the competition.
In the individual category, The Gambia face Burkina Faso for 66kg; Gambia versus Nigeria for 76kg, Gambia versus Ghana for 86kg, Gambia versus Togo for 100kg, and Gambia versus Niger for 120kg.
The wrestlers are in high spirit and ready to make the country proud in yet another wrestling competition, as this is not their first participation in ECOWAS wrestling tournament.
Speaking before the team's departure, Marcel Mendy, executive director of National Sports Council urged the wrestlers to be confident and make the country proud.
According to him, the government through the Ministry of Youth and Sports under the leadership of Minister Alieu K Jammeh will continue to give support to wrestling as a traditional sport.
HabibouNyassi, Secretary General of the Wrestling Federation and AlhajiAbdoulieBojang, Wrestling desk officer, both wish the wrestlers good luck.
Meanwhile, some wrestling fans were said to be on their way to Dakar to give support to the team. 
Read Other Articles In Article (Archive)