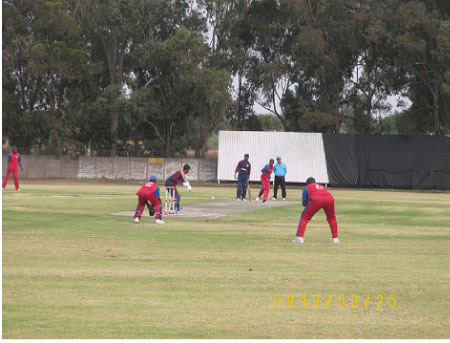 Mozambique defeated The Gambia U-19 by 3 wickets in the first match of the Pepsi ICC-AFRICA CWCQ DIV2 Tournament currently underway in South Africa.
The match was played at field 'B' of Sahara Park Willowmoore with Mozambique winning the toss against The Gambia and elected to field.
The Gambia scored 62 all out with FA Assan Faye scoring 31 off 17 (3 4's; 2 6's).
The two Gupta brothers were the chief destroyers in the Gambian innings. Anikett Gupta took 3 for 18 and Atisay Gupta took 2 for 4.
Mozambique scored 63 runs for the loss of 7 wickets in 15 overs. Atisay Gupta 16 off 26 balls. Gabriel Ndiaye took 2 for 10.
The game was said to be affected by rainfall resulting to delay in starting the game as well as the cutting of the over down to 20 per match.
Ghana vs. Rwanda was also affected by the same climatic condition.
Being the only fixture to commence as per schedule, Swaziland played against Tanzania on Sahara Park Willowmoore's Main Oval.
After winning the toss, Tanzania decided to bat and score an outstanding 321 runs for the loss of 6 wickets in 50 over.
Moebeen Elyas scored 103 off 76 balls (8 4's and 2 6's) and Aarsha Jasani with 73 off 99 (5 4's).
With a massive score to chase, Swaziland went in to bat and skittle for a mere 80 runs.
B. Karwal took 3 wickets for 11 runs and S.J. Ally 3 for 14. Tanzania won by a massive 241 runs!
On Field 'A' of Sahara Park Willowmoore, Ghana batted against Rwanda after winning the toss.
Ghana scored a total of 121 for the loss of 3 wickets in their 20 over with batting contribution from I. Aboagye who scored 31 off 30 balls (2 6's) and V. Ateak 26 off 19 (4 4's). D. Mugisha took 2 for 22.
Chasing the total, Rwanda was bowled out for 50 with I. Aboagye of Ghana taking 3 for 11 and G. Bakiweyem 2 for 5. Ghana won by 73 runs!
Read Other Articles In Article (Archive)