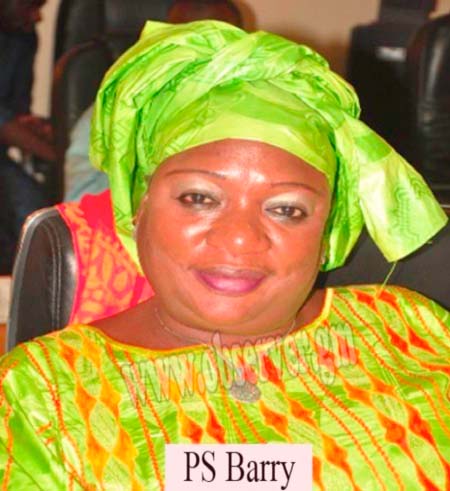 Mrs Naffi Barry, the permanent secretary at the Ministry of Trade, Industry, Regional Integration and Employment, has said that addressing youth unemployment is a top government priority.
Employment PS Barry made the remarks recently at the national forum on youth unemployment, jointly organized with the Ministry of Youth and Sports.
The forum was funded by the UNDP as part of efforts to address the youth unemployment situation in the country, and it was held at the Kairaba Beach Hotel.
The objective of the forum was to share with stakeholders the data on youth unemployment in order for collective action to be taken to address the situation.
It was also meant to map out the opportunities available for youths within different institutions, and to as well identify the challenges and propose solutions to create and promote youth employment.
Give the youths the opportunity to interact with potential employers and employment agencies to help them understand the dynamics of the labour market was also one of the forum's objectives.
The forum provided an opportunity for national reflection on the issue of employment, especially at a time when every country is challenged by the issue of unemployment, according to PS Barry.
 "A lot of efforts have gone into organising the forum, which was only possible through sacrifice and dedication to duties."
She thanked the UNDP for their support, without which it would have been difficult to hold a forum like this.
This was the second time the UNDP has been sponsoring the national employment forum, including the regional consultations, she continued.
PS Barry pointed out that over the years the Gambia government through the Ministry of Trade and other partner institutions had initiated a series of programmes and projects directed towards solving youth unemployment.
She said the launching of the national medium-term development plan – called the programme for accelerated growth and employment (PAGE) - in 2011, clearly demonstrated the government's commitment to addressing the issue of unemployment, and that recent data shows significant progress registered in this area.
"PAGE has redefined the focus of public policy by bringing to the forefront the issues of employment in national development planning, implementation and management, which has never been the case."
Therefore, she went on, the issue of mainstreaming employment in national development is no longer an issue, but rather how to sustain the commitment.
She pointed out that the task before them is what could they do or make different that would improve the lives of the young people in the country, with particular reference to employment opportunities.
"The success of the gathering would be best measured by showing what we are able to do differently that would impact significantly in addressing the youth unemployment and underemployment situation in the country.
"I challenge all of us present in the gathering to focus on the task, and come up with realistic recommendations/strategies that would help to implement or addressed our concerns, both in short-and medium term."
Read Other Articles In Article (Archive)