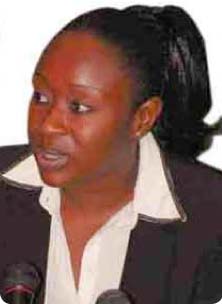 Representatives of civil society organizations from Africa and beyond will convene at the Kairaba Beach Hotel in Banjul to take part in the Forum on the Participation of NGOs in the 56th Ordinary Session of the African Commission on Human and Peoples' Rights (ACHPR).
Participants at the forum will discuss the current human rights and democracy challenges in Africa, as well as review correspondence strategies to address the identified challenges.
Organised and hosted by the African Centre for Democracy and Human Rights Studies (ACDHRS), in collaboration with the African Commission on Human and Peoples' Rights (ACHPR), the forum will be held from 17 to 19 April 2015 in Banjul.
"It will be officially opened by the Attorney General and Minister of Justice of the Republic of The Gambia," a press release from the ACDHRS stated.
Other speakers to address the forum will include the chairperson of the African Commission, H.E. Sylvie Kayitesi, chairperson of the Governing Council of the African Centre and former Commissioner of the African Commission, Andrew Chigovera, as well as the NGO Forum Steering Committee.
"The forum provides an important platform for stakeholders to address challenges; exchange views and explore practical approaches and experiences with the objective of fostering cooperation among and between NGOs, as well as with the African Commissionand, of course, states and other stakeholders in promoting and protecting human rights in Africa," the release further stated.
It added that the forum will discuss reports assessing the human rights situation in Africa, particularly in Djibouti, Ethiopia, Malawi, Nigeria, Niger, Senegal, Sierra Leone and Uganda, whose "State reports will be reviewed by the African Commission at the 56th session in fulfillment of Article 62 of the African Charter on Human and Peoples' Rights".
A series of presentations and or panel discussion, among others, will be conducted on such issues as accountability for torture and related violations of the African Charter; statelessness in Africa and the right to nationality; the situation of women human rights defenders in Africa; the right to freedom of association and assembly in the African context; and the role of youths in democracy and governance in Africa.
The release also stated: "The 30th African Human Rights Book Fair will run concurrently with the Forum, with the objective of giving human rights NGOs the opportunity to share their publications, working tools and other materials with other NGOs, and to promote networking on the continent and beyond."
Read Other Articles In Article (Archive)