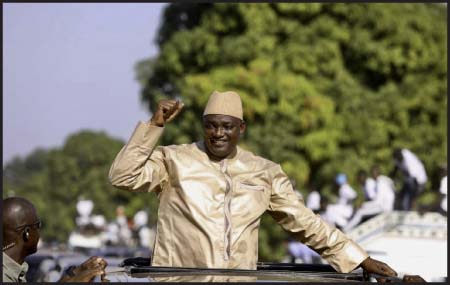 President Adama Barrow has told the people of Foni that no one has the power to separate Foni from rest of The Gambia.

Mr. Barrow made the statement on Monday 2 December, 2019 at Kampasa village as part of activities of his Meet the People Tour. The president on the same day had earlier held a similar meeting in Foni Bondali, West Coast Region.
He said his government has no other interest in giving special to certain regions or communities over other regions, adding that the development of the country will not be based on prioritising certain areas and ignoring others.
President Barrow pointed out that The Gambia as a country will be entirely incomplete and lose its sovereignty if Foni as one of the major regions is taken away from the country, stating that Foni will forever belong to The Gambia as a republic. He added that one can only help in strengthening peace and cohesion among Gambians as people.
"Gambia is one and this is where Foni as a strategic area belongs to. So no single person has the power to remove you from The Gambia. Gambia will become incomplete and lose its sovereignty if Foni is not part of it as a republic," Mr. Barrow affirmed.
He disclosed that his government's development plans will not leave Foni and its people behind, saying this is manifested in the laying of a foundation stone for the construction of a new market at Kampala.
"What my government has is purposely meant for the people. We are not here as a government to select what kind of development a particular community or area should have."
Read Other Articles In Article (Archive)