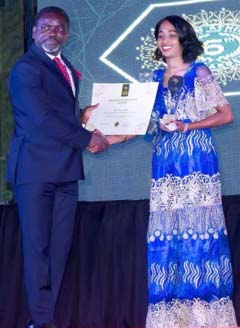 Hon. Absanatou Jallow, National Assembly member for Nianija, recently received an international award she said she would dedicate to The Gambian leader.

Hon. Jallow was awarded by the African Achiever Award Organization as the African Young Achiever of the Year, which took place in Nigeria.
The official ceremony was attended by senior government officials from Nigeria, representatives from other countries, as well as international organisations.
Speaking to journalists shortly after her return from Nigeria, Hon Absanatou Jallow said she was glad to travel all the way to Nigeria, where she met thousands of people attending the ceremony, and she was lucky to be awarded as the Young Achiever of the Year.
She said by looking at her age and also the size of The Gambia, she was chosen to receive the award, which was "so emotional" as she was nominated as the young African Achiever Award to represent the whole of Africa.
"This was a big thing to me and to The Gambia," she added.
Ms Jallow thanked the African Achiever Award Organization on behalf of the country and on behalf of the Gambian leader.
"I am dedicating this award to President Jammeh," she said, adding that she was able to achieve the award through the encouragement President Jammeh is giving to the country's youth.
She thanked the National Assembly of The Gambia, as well as the African Achiever Award Organization for endorsing her as part of the organization to attend any of their programmes.
She said she also gave a vote of thanks on behalf of The Gambian leader, as well as on behalf of the people of The Gambia.
Hon. Jallow, therefore, called on the youths of the country to support President Jammeh to take the country to "where he wants it to be".
"It is a pleasure and honour for us the members of the board of directors and entire management team of the African Achiever Award African Young Achiever of the year," she quoted the organisers.
The African Achiever Award Ceremony has fast become established as one of the biggest gatherings of influential and global African Achievers on the continent, as the occasion continues to go from strength to strength and get elegant.
The award has been rated by FORBES Magazine and Channel Television as one of the most prestigious award ceremonies that represents the whole of the African continent.
Read Other Articles In Article (Archive)