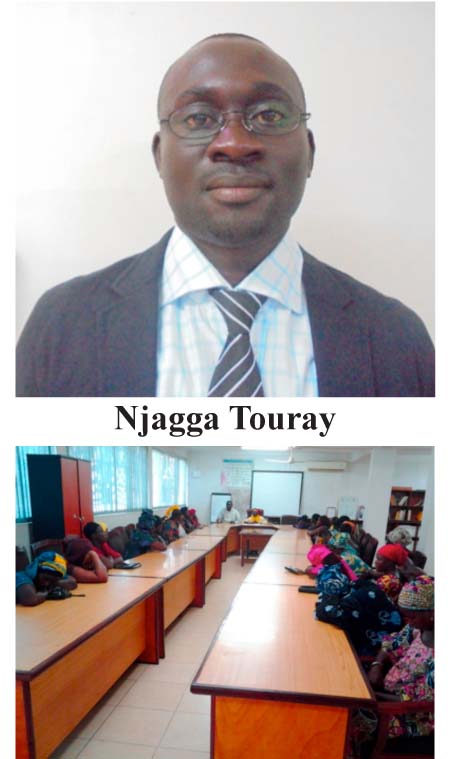 The programme officer for Environmental Quality at the National Environment Agency (NEA) has told a group of women, who are involved in petty trading such as selling cake, water and ice (juice) that plastic bag pollution is causing severe environmental and health damage in the marine eco-system, on land and also in the livestock sector.
Njagga Touray was speaking recently at a sensitisation forum held at the agency`s documentation centre organised for women who are involved in selling cake, water and ice at the two major ferry crossing points in Banjul and Barra.
He told the gathering that The Gambia needs holistic actions to effect the ban on plastic bags that find their way into water bodies causing water pollution resulting in the death of many juvenile fish and other marine species by entanglement.
Plastic bags do not decompose for many years and, therefore, destroy soil structure by reducing aeration and root penetration, and thus threaten soil and crop productivity.
In addition, he said, a plastic bag kills livestock and other smaller domestic animals when swallowed or ingested causing huge economic loss to farmers.
"The unsustainable use of plastic bags threatens our food security as they resist decomposition for decades and become an eye-sore in public places and, eventually, result in low tourist attraction," he said.
He also stated that most plastic wastes find their way into gutters and waterways, and cause blockage and subsequent flooding in growth centres during the rainy season.
The NEA officer added that when a plastic bag is burnt, which is a very common practice in the country, it releases dangerous chemicals such as Persistent Organic Pollutants which are capable of causing cancer and other life-threatening diseases.
"Plastic bags are often misused by putting hot foods like 'Ebbeh, Café Touba, Nan-Mburr', etc in it," Touray pointed out, noting that the use of plastic bags to package hot foodstuffs in it is very dangerous, because it causes the release of the chemical contents of the plastic into the food, and when eaten could cause long-term health problems.
Ajie Binta Kinteh, senior programme officer for Environmental Education and Communication, noted that the intention of the ban was not to destroy the livelihood of people, especially the women; instead it is to protect humans from the dangers associated with the use of plastic bags.
She also pointed out that there are readily available alternatives to plastic bags, which could be used to package products.
She advised the women to form an association through which they could be funded by national and international donors to operate standardised bakeries.
Assan M.S. Dukureh said the Gambia government realised that plastic bags are hazardous to human health and the environment due to their persistent nature, and that its continuous accumulation could lead to soil degradation.
The Environment Impact Assessment Officer seized the opportunity to show them samples of alternative packaging materials for cake and other consumer products, and the women were happy to realize that using such packaging materials would add value to their products and help them to get more income.
This group of women organised themselves to seek advice from the NEA regarding the use of plastic bags in their business, which they said is their main source of livelihood for their families.
They also believe that they could not continue on their business without plastic bags for packaging.
But at the end of the sensitisation forum, they went back with so much enthusiasm to make improvements in their packaging materials, as suggested by NEA officials.
Plastic bags are widely used for packaging a range of consumer goods. It is estimated that between 500 billion and 1 trillion plastic bags are used globally each year.
Since their inception, uncontrolled disposal of these bags has been causing serious environmental problems.
The problem is particularly acute in Africa due to its unique socio-economic settings and conditions.
As a result, many countries are beginning to take actions like what The Gambia is going through.
It would be recalled that the Gambia government has banned the import, manufacture, sale and use of plastic bags in the country, effective 1st July 2015.
Read Other Articles In Article (Archive)