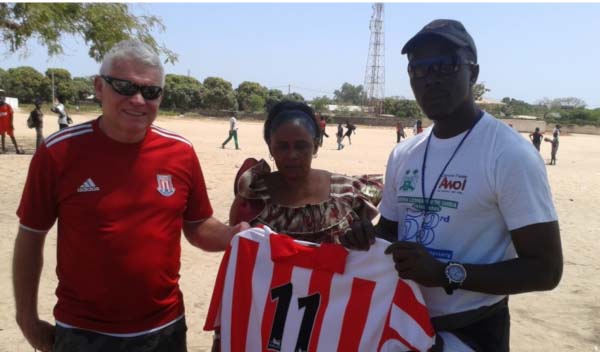 Peter Evans, a fan of one of the most popular and well-known community teams in Northern England, Stoke City Football Club, currently playing in the English Premiers League, has pledged to offer more support to Raptim Football Academy.
Mr Evansand Alex Curwen both fans of Stoke City who frequently visited The Gambia last year, are inthe country again to meet Julius Camara, founder and manager of Raptim Football Academy in Tallinding,who introduced them to his academy made up of young boys and girls.
Mr Camara explained the constraints and shortfalls he has been encountering in running the Tallinding-based academy but the visitors decided to see the academy physically.
During their latest visit, Mr Evans said he was impressed with the organizational structure of the team among other aspects, adding that Mr Camara "is really doing a fantastic job" as it is not easy to manage kids.
Peter also said the friendly games played between his Academy and Lamin Daranka Academy were good sign to him, noting: "When I return home this will serve as proofs to convince donors, clubs and individuals to assist the academy."
Mr Peter also promised to use the social media to look for more assistance for Raptim Academy in Gambia, adding that they would do their best to support the academy.
The friendly matches played between various age categories of Lamin DarankaAcademyand Raptim Academy of Tallinding at Lamin Daranka School grounds saw the first game between the under 8 category end goalless, the under 10 category between the two sides end one-all while the senior category saw Raptim beaten 2-1.
Read Other Articles In Article (Archive)