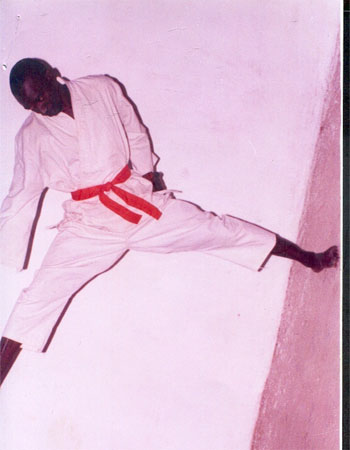 The long awaiting election of the GKFAD executive finally took place last Saturday the 24th of May, 2008.
According to a member of the GKFAD, the executive had failed to hold congress since October 19th 2007 and were not ready to stage the congress. It had to be cancelled on three consecutive chosen dates after notifying the NSC with a letter submitted to the Executive Secretary of the NSC.
The congress hall was filled to capacity by students eager to see a new executive that will run the future affairs of Karate in the country.
Mr. Omar Manjang was finally elected as the new President of The Gambia Karate Federation and Associated disciplines. When asked about his plans to bring Karate back to life, he said he will make sure that Karate is revived and that students will enjoy standard competitions that will prepare them for up coming international competition.
He said that there are lots of talented young Gambians that need to be helped to realise their dreams in Karate. He added that Karate academics should be set up to develop youngsters and prepare them for future cadet competition.
One Karate student said they had stopped competing for 11 months now but hailed Mr. Manjang as someone with a difference.
Yorro Njie, a delegate, said that sports should be helped and the National Sports Council should come up with a policy that will make sure that no association/federation is over due for congress.
Though the old executive failed to turned up to give out their financial, secretary and president's reports, 17 clubs out of 26 voted for a new leadership.
The new Technical Director Sensei Muhammed Danso informed the gathering that the notification of the election result will be submitted to the national Sports Council.
Read Other Articles In Article (Archive)