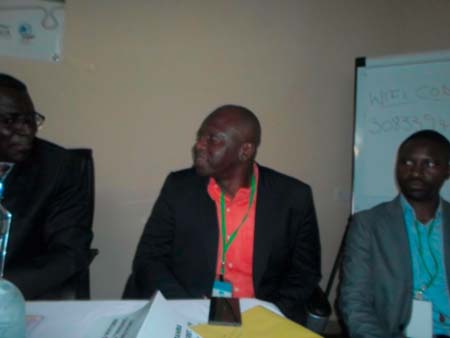 The permanent secretary, Ministry of Environment, Ousman Sowe, has said that through their dedicated efforts, the West Africa Network of Marine Protected Areas (Rampao) was able to protect about 13 per cent of the territorial waters found in Mauritania, Cape Verde, Senegal, The Gambia, Guinea Bissau, Guinea Conakry and Sierra Laeone.
He said this was a big achievement considering that the worldwide average was only 7 per cent by 2012.
PS Sowe was speaking at a two-day forum organised by RAMPAO, held at the Ocean Bay Hotel yesterday.
"I wish to state that as a country our commitment to Rampao has remained strong, as we have found Rampao to be a robust and forward-moving network," he said.
Over the years, PS Sowe added, The Gambia through the department of Parks and Wildlife Management had remained an active member of the Rampao network, as it was among its founding member states.
PS Sowe further stated that since the inception of Rampao in 2007 in Praia, Cape Verde, The Gambia had contributed immensely to the establishment of the network, as well as reaping the benefits.
The Rampao network had assisted in the development of the capacities of the park managers, established functional site management committees in all four MPA's surveillance and networking exercises, he stated.
"In view of the changing times and financial uncertainties in the world over, I wish to encourage Rampao to redirect its focus in order to become self-sufficient, so that it can contribute to benefit its members," PS Sowe advised.
He said it would be useful at the meeting for participants to exhaustively discuss matters related to structural and financial independence so as to come up with sustainability strategies.
"This is important, especially as donor fatigue is nowadays an ever present problem to the sustainability of projects and networks."
He challenged the 28 MPA members from Senegal, Gambia, Guinea Bissau, Guinea Conakry, Cape Verde and Sierra Leone, to brainstorm on a possible road map, and to explore potential collaboration and partnership to ensure sustainability and continuity.
"There is need for countries to dedicate more resources in this endeavour because this is our own initiative. With some contributions just like what we are doing with the conventions and protocols, we will show our commitment to what we own," PS Sowe said.
It was time for them to think of what they could do to have it strong, he said, adding that together, with commitment and determination they could do it.
"My ministry is dedicating efforts and energies towards adapting to climate change, improving the management of water resources, managing and protecting ecosystems and advocating for guaranteed marine protected areas," he stated.
They as a ministry recognised that it was in their enlightened interest to associate and align their efforts and strategies with efforts geared towards improving the conservation of biodiversity and sustainable management of marine resources, he noted.
"We will be judged by how much we are able to ensure the protection and increase the region's protected territorial waters from its 2012 figure of only 12.7 per cent," he said.
He implored on Rampao to dedicate more efforts to increase connectivity between the Cape Verde Island and mainland West Africa.
He said they would as well be judged by the meeting on how they have protected and ensured the survival of West Africa's rare yet threatened endangered marine species, such as the manatees, sea turtles, dolphins, hippos, and other species.
Read Other Articles In Article (Archive)