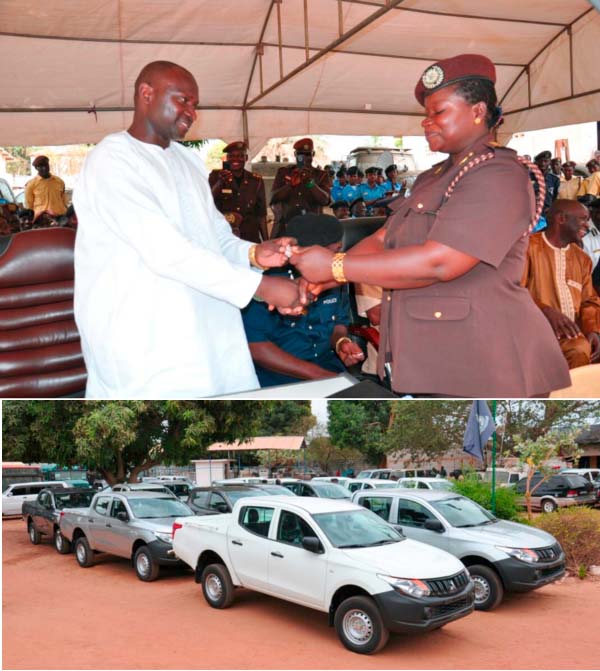 (Friday Issue, 1 July 2016)
As part of making the mobility of security officers easy during their patrols, the Gambia government under the Ministry of the Interior on Tuesday presented 25 pickups to the security departments, at a ceremony held at the police garage in Kanifing.

The official presentation was attended by senior government officials from the Ministry of the Interior as well as other departments.
The security departments that benefited are the Gambia Police Force, which received 10 vehicles, the Gambia Immigration Department, seven vehicles, the Gambia Fire and Rescue Service Department, three vehicles, the Gambia Prison Department, three vehicles, the Gambia Commission for Refugees, one vehicle, and the Private Security Office under the Interior Ministry one vehicle.
Speaking at the presentation ceremony on behalf of the service chiefs, Momodou Sowe, deputy Inspector General Police, expressed his heartfelt gratitude to the President and commander in chief for his support and timely intervention.
Furthermore, he said the vehicles "will go a long way in complementing the security service job in terms of service delivery".
He said mobility is key to the operations of the security, while urging the departments to take proper care and maintenance of the vehicles.
The Chief Fire Officer, Roger Bakurine, who delivered the vote of thanks, expressed his deep appreciation to the President for the donation.
He also thanked the Minister of the Interior for such a timely intervention, saying: "We have very few months to the general election, and these vehicles are very important."
Also speaking at the ceremony was Ousman Sonko, Minister of the Interior, who thanked President Yahya Jammeh for donating twenty-five vehicles to the security departments.
"This is a milestone in making our community safe," he added.
Minister Sonko went further to thank the President for his visionary leadership, saying the gesture is in line with what President Jammeh always says, that "there will be no compromise on security".
"Mobility is paramount in security," he said, adding: "To whom much is given much is expected."
The Interior minister urged the country's security apparatus to do their job "without any fear or favour".
He said the departments should maintain the vehicles, adding that the vehicles should only be used for working hours and "nothing else".
He urged the general public to collaborate with the security, and report all incidents to the nearest security unit.
He also thanked the Ministry of Finance for the support.
Read Other Articles In Article (Archive)